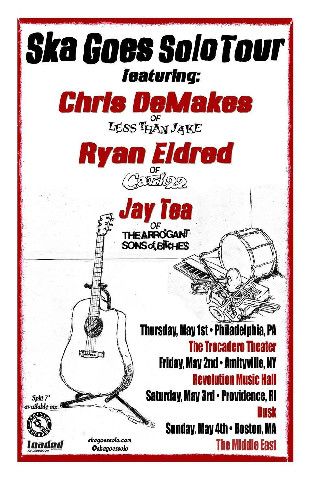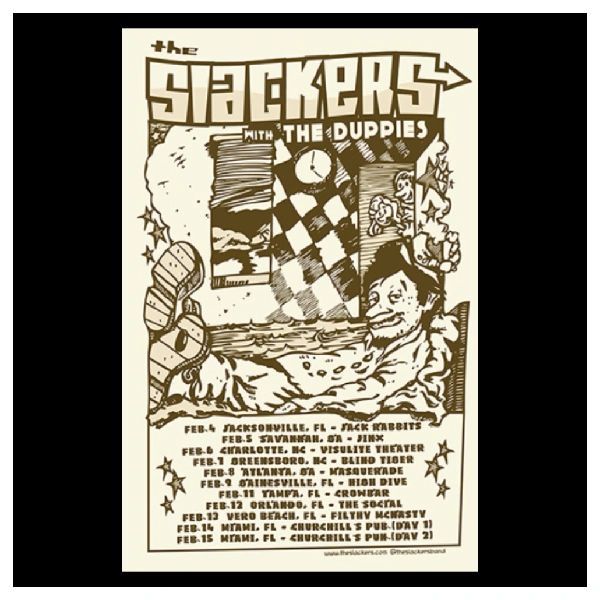 Horace Panter, bassist of The Specials, is painting Amy Winehouse to be auctioned off in England.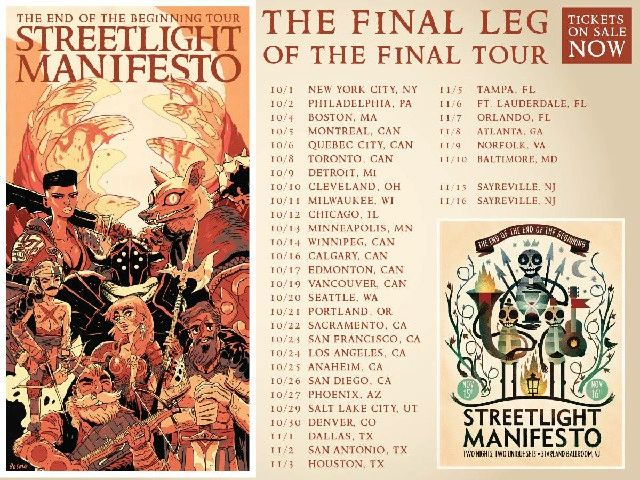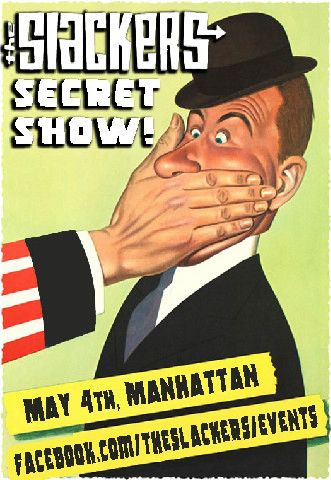 The Mephiskapheles Reunion at The Underground Lounge - April 10, 2012
Seriously, this was the show of the year. Forget about the Bosstones' Throwdown. Forget about the annual booze cruises. THIS was the show to be at this year. Meph was one of the best ska bands to come out of NYC, hands down. They had their faithful followers (nearly every skinhead in New York and New Jersey) and their faithful followers always had brawls during shows. That's just the way it was. Sadly, I kinda miss that there wasn't a fight at this show. I should have just punched someone in the face for old times' sake. Maybe next time. Mephiskapheles IS my co-pilot.



The Slackers at Port City Music Hall - March 25, 2012

The Slackers are a hometown favorite in NYC: they sell out every show, ladies still drool over Glen and Vic, and it's always a great time. It's not the same like that everywhere else. It makes me feel totally spoiled. This was not their best show, but The Slackers always put 110% into their performances and, for what little good ska comes to Portland Maine, the crowd loved it.



The Pietasters at the Chance - March 16, 2012

I love these guys and take plenty of photos of them, but it's not often that the photos come out looking spectacular...like they did this time. The Chance in Poughkeepsie, NY is a relatively small club, but can get packed when bands like the Bosstones or Less Than Jake plays there. This night there was like maybe 30 people max in attendance probably because St. Patty's fell on a Saturday this year and folks started getting their drink on a day early. I loved it since it was like my own show. Regardless of how many people were there, I still had a great time and the band looked fantastic.


Rudie Crew (opening for The English Beat) at Irving Plaza - November 19, 2011

I feel sometimes that NYC's Rudie Crew doesn't get enough credit for as much effort as they put into their passion. At this show, they did an amazing job opening for The English Beat. Even more amazing was the photos from this show, not because of me, but they just look so good on stage (and sound good too!). Click on
Rudie Crew
to view more pics.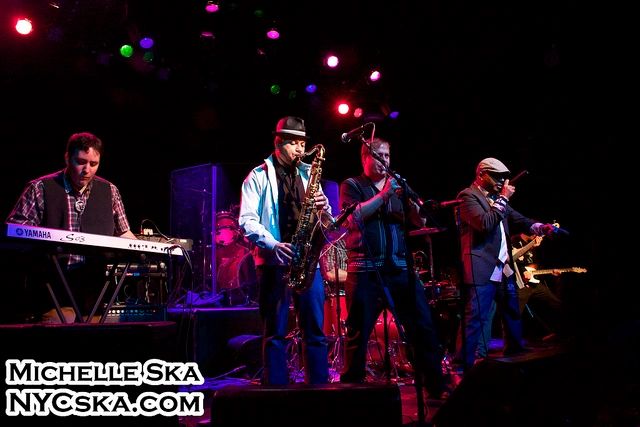 Toasters, Westbound Train/Obi, and Royal City Riot at Highline Ballroom - November 6, 2011

This is probably thee best photos I have ever taken. The lighting at the Highline Ballroom in NYC is STELLAR. The photos came out well enough that many of the musicians in these pics loved them so much that they used them for their defaults on facebook. As much as I became flattered, I also got really pissed...when one of the guys (who shall remain nameless) took my pic and cropped off my watermark. Some people just don't see the importance of a watermark. It's time consuming, I edit them carefully, and takes a long time to take these. Musicians should know better since it's like taking their CD and trashing all the info inside of it. If someone likes your music, they'll contact you and good things come from it. Same thing with photography. Have respect for these images, musicians and fans alike. Thank you. Now go and enjoy more of the photos from
this show
.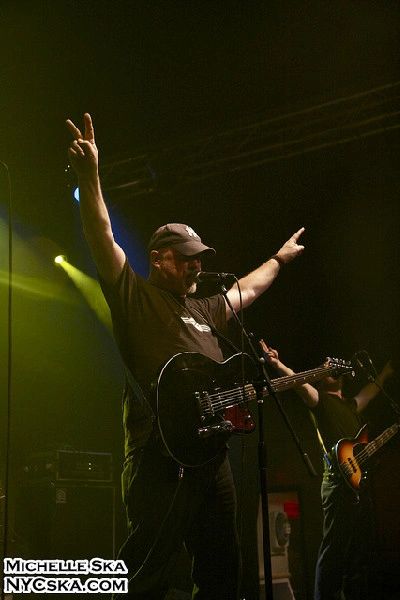 Toasters and Royal City Riot Boat Cruise - June 12, 2011

Boat cruise is the PG rating for what we all really call the NYC Booze Cruises. Rocks Off does an amazing job of setting up many ska shows every year that float around Manhattan as we all get trashed. It kind of helps that the owner Jake has been a ska fan since the Wetlands days. This day was NYC's own Toasters with Long Island's RCR. How can you get any more New Yorker than that? The rest of this set can be viewed
here
.


Bad Manners at Webster Hall - June 4, 2011
This ended up being a bittersweet night because it would be the last time I would ever see The Forthrights, NYC's own rocksteady band. They opened the show followed by Long Island's ska band, The Scofflaws. Disappointingly, they played a really short set, like maybe 6 songs??? Humph. Bad Manners rocked NYC like they did before at Irving Plaza. I'll never miss Buster Bloodvessel's trademark tongue. I'd also like to add that the pic below makes me feel good because BM's violinist Marja Rager said of that photo, "That's freaking amazing!!!" She said was this was the best photo she's had taken of her on stage. Thanks Marja! If you'd like to see more photos of this night go
here
and enjoy.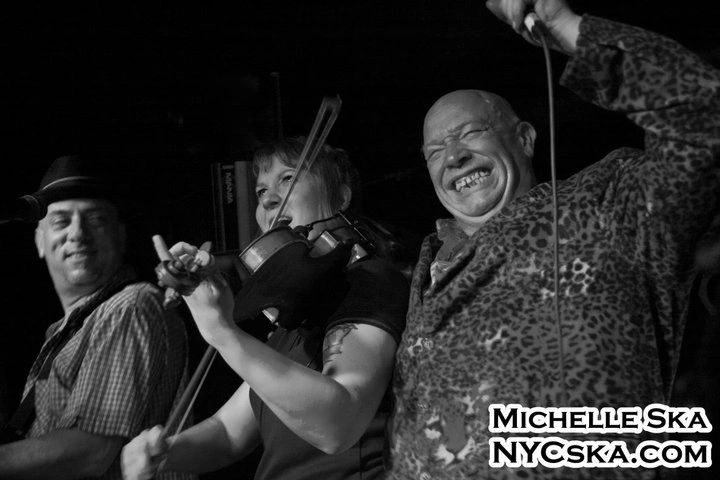 The Slackers and Hub City Stompers at Asbury Lanes - April 15, 2011

This was a difficult show to photograph. There isn't much lighting, but what there is sucks. It's not fun seeing all the musicians look like the Hulk. And I thought red lighting was bad. Ack. The rest of the photos are on
Flickr
.

Pietasters at Brooklyn Bowl - February 12, 2011

I'd like to toot my own horn and say i'm probably the biggest Pietasters's fan. To date, I've seen them 85 times over 17 years. Not too shabby since I live 250 miles away from them. This time they played Brooklyn Bowl, one of the best new venues in NYC (please note I didn't say best new bowling alley since its costs a whopping $25 per half hour to bowl here!). I just wish I was there on time since The Forthrights, one of NYC's quickly-rising reggae/rocksteady/ska bands, opened the show. Sorry guys! As always I had the time of my life with them, though I'm sure it had something to do with all the time I had on the mic that night. I won't forget the girl who stood to my left leaned over to me half way through the set and said, "I think they like you!" Ha! Check out these
pics from that show
.

Less Than Jake at Starland Ballroom - January 29, 2011

I love these guys. I love them enough I should be their personal bodyguard. Less Than Jake has been playing about 17 years now and they still draw the same amazing crowds. Hopefully they play for at least another 17 more...or until Chris ends up in some prison overseas. You can see more of these pics
here
. Did I mention I love these guys???
The Mighty Mighty Bosstones HTTD13 at Boston's House of Blues12-28-10

It's that time of year again!!! This past Christmas marked the Bosstones' 13th Annual Hometown Throwdown. Super fans of the Bosstones, lovingly called "The 737" make a trip to the mecca of Boston each year to get their fix. This past year was more of a mission...Boston got SLAMMED with a blizzard in which the area called for a state of emergency: flights canceled, cars told to keep off the roads, and snowsuits had to be worn. So many people didn't get to make it because of this. The ones of us who made it sang loudly, drank car bombs, and stayed up all night. These are some of the best ska shows of my life. I know you want some
more
.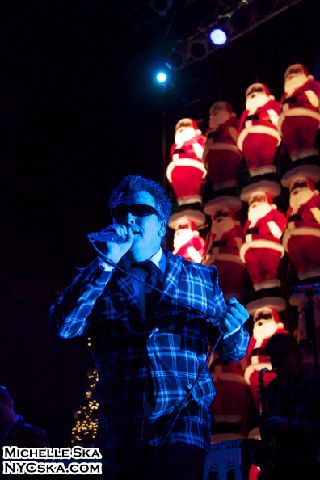 Sublime with Rome at Jones Beach - July 20, 2010

This was my second time seeing Sublime with Rome. The first time at Roseland, I wasn't too impressed, but found out there were only 4 practices for Rome before they hit the road. Months later and now Rome looks much more comfortable on stage. I was one of the lucky ones who got to see the original Sublime on the first Warped Tour in '95,and though it'll never be the same without Bradley, it's still good to see them back playing the music we love. A few
more photos
for ya.


Reel Big Fish at Warped Tour, Uniondale - July 17, 2010
Unlike the bitch it was to get to see RBF in Allentown the week before, the Warped Tour show at Uniondale went flawlessly. As the last band to go on the main stage that day, they played a relatively long set for a Warped Show and there was a nice full crowd that stuck it out in the heat and humidity of the entire day. I love when the fans are sometimes more hardcore than the bands. Here are a few
more photos
from that day.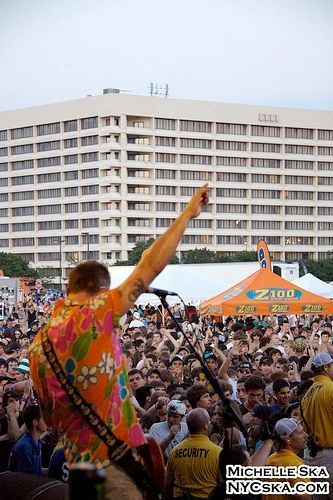 Dave Hillyard's Rocksteady 7 at Two Boots - July 16, 2010

This was the second time I ever trekked out to Brooklyn to the Two Boots restaurant to see Dave Hillyard's Rocksteady 7 play...and it's always worth it. First, since it is a restaurant you can eat and watch/listen. Secondly, they also serve liquor...just like those venue shows we like to party down at. And third, IT'S FREE!!! As a New Yorker of 15 years, free is hard to come by around these parts. Dave does ask kindly for tips which, for the quality of music, I'm glad to pitch in the amount I would have paid at a regular show. I'm looking forward to going back when the Bluebeats play this time! Here are a few
more photos
from this show.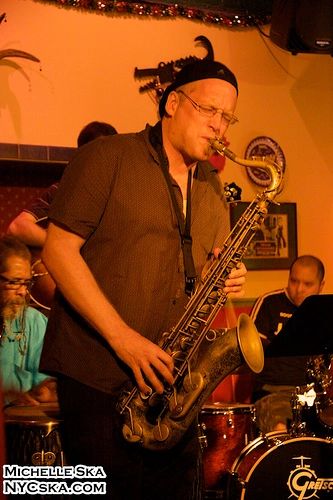 Reel Big Fish at Crocodile Rock - July 12, 2010

This was the show that I eventually got to...you know, after the fire while I was on my motorcycle, my friend throwing up 4 times from a migraine, stuck in a thunderstorm for 2 hours a mere 15 minutes away from the venue, and then missing half the set...yeah, that one. Even with only a few songs, Reel Big Fish always puts on a good show that was worth making it there just for 10 songs. I'm glad I made it. Burnt saddlebag and pic of red thunderstorm cell is
here
so you can see I'm not joking. Have a laugh at my expense. :)

Badfish at Brooklyn Bowl - July 2, 2010

It's always a treat to have Badfish around. Great music, good times, (especially) good drinks, and best of all.....bowling!?!?! Yep, Brooklyn Bowl is half bowling lanes and the other half is the show, but in one open space so the folks who are bowling can also watch the show. Can't beat that for a Friday night in Brooklyn!
Pics, pics, pics!


Aggrolites at Highline Ballroom - June 30, 2010

Los Angeles' Aggrolites crashed the NYC ska scene on Wednesday with their sweet sounds of reggae and ska. Word on the street was they had 150 ticket presale, not bad for the times, and filling the room by the time they went on. The Have Nots, who hail from Boston, opened the show and have been slowly attracting many kids from the ska-punk scene with their ska influenced sounds. With the two of these bands on the same bill, it was great hearing both ends of the ska spectrum on the same night. Check
these
out for your viewing pleasure.
Streetlight Manifesto at Starland - June 30, 2010

When Streetlight Manifesto comes around the NYC/NJ area, you better get your ticket early! These guys sell out all the time around these parts and their fans love them (so much that you can see the poor sardines getting squished up front BEFORE the band comes on). SLM has amazing energy and a rich sound from their plentiful horn section. If you haven't seen them yet, be sitting at your computer the moment they go on sale and bring armor to the show. You just might need it. For more photos lookie
here
.

Badfish at Crocodile Rock - June 6, 2010

If you think cover bands suck then you should see Badfish, the Sublime cover band, and you might change your mind. These guys have been playing to sold out crowds for years now and still are popular even though Sublime has been revived with Rome on guitar and vocals. After being one of the lucky few who have the bragging rights of seeing the real Sublime play back in 1995, I'm proud to say that Badfish is spot on musically and have great stage presence. Save yourself some cash and see these guys since it's not much different than Sublime with Rome. I've definitely become a fan! More
photos
for your pleasure.

The Slackers at The Highline Ballroom - June 4, 2010

The Slackers have been a staple of the NYC ska scene since 1991. With 12 studio albums under their belt, they continue to woo us with fantastic new albums and sold out hometown shows. They were touring for their latest release,
The Great Rocksteady Swindle
, and played a good assortment of old tunes as well that night. I'm already looking forward to their next show...their infamous annual booze cruise on September 11. Here are the rest of the
pics
and see you in Sept!




Spring Heeled Jack Reunion at Toad's Place - May 7 & 8, 2010
Many of the ska bands we loved in the mid 90s and left us have returned in the past few years: The Specials, The Mighty Mighty Bosstones, The Pilfers...and now Spring Heeled Jack USA. Everyone thought SHJ was done with when drummer Dave Karcich suddenly passed away in 2002. Afterward, each of them went their separate ways into other bands. Who knew in 2010 the band would reunite and play 2 shows! Though there was no barrier, I still brought my camera and stayed up front the whole time. Add a few kicks in the head and I came out with some of the best photos I've even taken. It was like they never missed a beat. Look
here
for more photos from those night.
The Specials was the first ska band I listened to and fell in love with. They will always be...well...special. I waited my whole life for these 2 shows. I really wanted a photo pass, but I didn't garner an official photo pass for both of the shows. Instead, I went armed with my advanced automatic and planting myself at the center against the barrier. I was able to take photos the entire time, instead of just the first 3 songs with the pass and not being in front the rest of the time. I'm very happy it worked out that way. Here are the rest of the photos from those two nights...