Bits and Pieces from My Checkered Matter

August 12, 2014 -




June 11, 2014 - Apple Womp. Yeah, Apple Stomp was nothing what it was supposed to be. There were no Stubborn All-Stars, no Big D, no Toasters. So many people bailed out. I was going to have 7 friends crash at my apartment; folks from Virginia, Maine, Maryland, and New Hampshire. After it became Apple Womp, only 1 friend ended up staying over and he wasn't even excited to be going. It was more "I just want to hang out with my friends" concept.

The secret band on Friday was "The Slacktasters" or "The Slack-Kay-Tasters" depending on who you asked. Either way, it was basically a jam session with a few of the Pietasters and Vic Ruggiero....a really long jam session. I was just happy to hear "Nothing Good To Eat." It's a song that was written by Vic and played/recorded by The Pietasters. I've been waiting to hear that live, in like, FOREVER. I video recorded it so I'll let you know when I get around to posting it on YouTube. Good shit, I tell ya. Oh, and a bunch of good friends in attendance too. I got to run. I'll catch up with you latahs. See you at the show!



May 27, 2014 - Forget the playful intros I always write. I ain't in no mood for no niceness. I got some venting to do right now. So on Saturday it was announced that Apple Stomp 2 was postponed "for reasons beyond our control." As one of my friends texted me today asking about it he said "I need the dirt! What happened with Apple Stomp?" Personally, I can only guess it was low ticket sales. Come on, that shouldn't come as a surprise. My friend was disappointed how anti-climatic my reply was. Seriously, what other reason can it be??? So here is my serious beef: What the fuck is going on with the tickets!?!?!? So the shows are postponed so that means you need to get a refund from where you bought your tickets. The Apple Stomp folks rebooked the shows to a smaller venue and are making us buy tickets for the new gigs. REALLY!??!?! This is such bullshit. Half of my friends already bailed out of the replacement shows for this weekend. I don't blame them. The line up was already weak the first time around. I'm still going regardless because I still love ska, but this was quite a dick move. I'm also really annoyed that they are announcing the shows with "super secret bands" and "possibly more bands." How bout just fucking tell us? This is fucking bullshit too. Venting complete (for now).

So nowwwwwww, The Asbestos folks are going to have shows on Friday, Saturday and Sunday at the Cake Shop featuring some of the bands that were suppose to play anyways. Here is what dilly-o:

FRIDAY MAY 30 AT THE CAKE SHOP (8pm)
Super secret headliner (band/bands from last year's Apple Stomp)
+3 "great regional acts" (This blows that they won't even tell you the opening bands either; that's pissing me off too).

SATURDAY MAY 31 AT THE CAKE SHOP (8pm):
Dan P and the Bricks
Sammy Kay and the Fast Four
I Voted For Kodos
Johnny Too Bad and the Strikeouts
The Huxtables
Murphy's Kids
and possibly more

SUNDAY JUNE 1 AT THE ROCK SHOP (no time was given):
Another "super secret headliner" from Apple Stomp last year
Slow Gherkin
Jiker
Survey Says
and possibly more

Now don't everyone go crazy about the stellar line up. If you're not overly excited, go see Mephiskapheles open for some hardcore bands at Irving on Friday night.

In non-Apple Stomp news, The Bandulus came through town playing two shows over the weekend. Can someone email me and tell me how it went since I was out of town? Thanks. I know, that wasn't really news. And your point is...???

Shit. That's all I really got. How sad. See you at the shows.




May 16, 2014 - You know what's really annoying??? Children. Yes, I'm a teacher, but they hover like vultures over you and stare when you're eating. Seriously, it's worse than any dog I've owned. At least they don't drool....correction, at least not all of them drool. They can beg for the same thing for over an hour even after being told NO a million times. And worst of all, they do a really good job of point out your short-comings. So far this year I've learned that I apparently say DRAWLING instead of DRAWING and TORLET instead of TOILET. I blame my heavy Pittsburghese accent. At least I don't say AXED instead of ASKED and MINES instead of MINE. Those annoy the fuck out of me. I'm alright sticking with my crappy grammar. You're still reading this, right??? SUCKERRRRRRRRR. Ha. (Please note, as I'm writing this I have children standing over me reading this and they're pretty pissed off. I'm quite proud of this.)

I know as soon as I start talking about ska, I knew they'd wonder off. I gotta do this more often than I already do. So, as I'm checking out upcoming shows, I got to admit I'm kinda bummed. As I do every summer, I plan my entire summer vacation around going to shows. Me on my motorcycle, cruising hundreds of miles all over the east coast, and, most importantly, fulfilling my job as a groupie 'til the break of dawn. There ain't SHIT for shows this summer, like I'm going to actually have to find a hobby to do to keep me busy.

I read something I want to share since I know I've heard a few people discuss this topic: The difference between Hub City Stompers and Inspecter 7. This statement was posted on Facebook by HCS recently:

"A bunch of now ex-I7 dudes (and 1 lovely lady) are in HCS. A brand new I7 is apparently being put together with an all new line up. But nobody in HCS is involved in I7 anymore, nor vice versa (though Michael Jones is accurate in that HCS is now comprised of the entire I7 line up from last year['s Apple Stomp] minus Giuseppe). It is also true that all of RevSin's I7 songs are now performed strictly by HCS. The "new I7" is still sorting and seeking out members..."

Finally, I'd like to leave you with an amusing fact. The May issue of Shape magazine said "7:37 - Time of day (on Saturday) when most couples have sex." 737 almost everyday! Hehe. See you at the show (tonight and tomorrow)!





May 14, 2014 - Do you know what this weekend is going to be? Well, I'm going to tell you anyway. So there. How bout a fucking awesome!!! ....well, at least mine is going to be because IT'S A SKA WEEKEND IN NYC!!!!! Friday has the Mad Caddies coming to Gramercy Theater. I don't think in the nearly-20 years I've been in NYC that they've even come here (and neither the Busters from Germany, but I'm not going there right now...grrr). Not only do I know the regular NYC scenesters are going, but they're also following them around the east coast. I'm only hitting this one. I know, I'm lame. My crazy Big D fan-friend of mine from New Hampshire is hauling ass down Friday afternoon to catch this show. It's good to know I'm not THAT crazy. Ok, fine. I lied. I am too. Well, this wasn't her only mission. She's going to do the touristy thing on Saturday afternoon and then sticking around for the Mustard Plug/Deal's Gone Bad/The Fad show at the Knitting Factory Saturday night. Though MP has been good about coming to NYC about once a year, it's been AGESSS since DGB has been around. The last time I saw them I want to say was at the REAL Knitting Factory (AKA the Manhattan location....yeah, fuck you Williamsburg). It'll be great to see them again.

Speaking of seeing again, has everyone been overplaying their old albums from the Apple Stomp 2 bands? I've heard tons of folks talk about AS2 for the past couple weeks. It seems that the Stubborn All-Stars are the one that everyone is talking about. Many folks weren't in the scene when they were around, but the long time fans really miss them (me being one of them). Shit, I love telling the story about they were the band that convinced me to move to NYC...not that they told me to do it, but they gave me every reason in the world why I belonged there. I've been here ever since. As for the other bands, the ones I hear people bring up are Slow Gherkin and I Voted For Kodos. The rest of the people I hear talk about AS2 have been complaining about the line up being bands that most don't know or care about, and others have said they are tired of having ska fest as digging up old bands rather than having a strong line up of current bands. I mean, there are a bunch of folks who aren't going because a roadtrip for this isn't worth it. Personally, I imagine Irving being lucky if it's half full. Sorry to be pessimistic, but I'm trying to be realistic.

See you at the shows!




April 30, 2014 - I like living a bullshit-free life. Let's get to the fucking point.
The line up for each day of Apple Stomp 2 got announced today!


SATURDAY:
Stubborn All-Stars
Five Iron Frenzy
Dan P and The Bricks
The Allstonians
Johnny Too Bad and The Strikeouts
I Voted for Kokos
Sammy Kay and The Fast Four
Vic Ruggiero

SUNDAY:
Big D and the Kids Table
The Toasters
Slow Gherkin
King Django
Jiker
High School Football Heroes
Hub City Stompers
Dan Potthast

So before you get all up in my shit, the bands that I tried to figure out on which days were shared by people in those specific bands or I found off of upcoming tour lists for each band. There are now individual day tickets for sale and there are also still 2-day passes on sale too. Yeehaw! See you at the shows!




April 20, 2014 - Easter keister. I hate to be the one to break the news to you, but the Easter Bunny doesn't exist...unless you're the Cadbury Bunny, of course. I'm just looking forward to buying Easter candy on sale tomorrow. I'm in the mood for some cheap speckled malted chocolate milk eggs. I could eat a shit ton of those. Don't worry. I'll
skank
off the calories later.
So, as some of you have heard Apple Stomp 2 is in full effect! That's right kids. The folks at Asbestos Records did it again and did it right. Check this out, yo...
If you're as slow as me, it said that Apple Stomp 2 will be happening on Friday May 31st and Saturday June 1st at Irving Plaza.
Two-day tickets have already gone on sale
. Oh damn!!! As I'm checking it out myself, I'll give you the heads up now. The two-day pass is $55. Not bad....until LiveNation bends you over and fucks you in the ass with an additional $15 "convenience" fee. I know I bitch about it all the time, but come the fuck on. Go to Irving's box
office
and pick it up, pick it up, pick it up. Sorry, that was corny and I promise not to do that again. Anyway, I don't have the inside scoop yet on which bands are playing on which days on the exception of SAS, Big D, The Toasters, and Dan P & the Bricks are all playing on Saturday. It now makes me wonder what Friday's lineup is going to look like if the popular bands will be on Saturday. Hmmm. Oh, and the other good info I have is that at least I know which musicians will be playing in the Stubborn All-Stars: Jeff on vocals/trombone, Eddie on drums, Sheldon on bass, Agent Jay on guitar, Vic on keys, Dave on sax, and Rich Graiko (from Westbound Train/Attractors) on trumpet. It's like old times. Good shit, man.
I got a bunch more news so I'll try to make shit a little shorter. I know you all have church to go to and such....right??? Uh huh. Here we go:
You in the mood to get pissed off?? Well, I'm in the mood to piss you off....unless you're stoned for 4/20 then you'll take this with a grain of salt. On Friday, The Slackers announced their 2nd Secret Show! I saw the post go up on Facebook on Friday around noon. They said it would be on Friday June 6th, there were only 90 tickets and that it's in Brooklyn this year (last year was in Manhattan). By 7pm, the tickets were sold out. I got mine. You got yours? I didn't think so. You can stop your crying since I'm going to tell you at least you can still go to the Slackers annual booze cruise still. It's going to be on August 23rd leaving from its
usual midtown
Manhattan dock on the west side. Don't fuck that one up and buy tickets now.
The Mighty Mighty Bosstones are throwing their leading man, Dicky Barrett, a 50th birthday show up in Boston. It's on Saturday June 21st at the Boston City Hall Plaza.
Tickets will run you $40
and some kind of bullshit fee there too.
Bim Skala Bim will be touring with King Hammond around New England in mid-August. They'll be hitting MA, NH, RI, and ME. Yeah, I'm too lazy to type out of the names of the states. You can check out the dates on the ska show calendar.
I don't think I mentioned it, but Fishbone's leading man, Angelo Moore was sued for $1.4 million by a lady who got kicked in the head by
him at one of their shows. You're going to need to
read the full article on your own
. It says "fan" in the article, but as a Fishbone fan for 20 years, I promise you no fan would be standing up front, not know that Angelo always dives into the crowd (and might I add, not the second they run out on stage) and NOT KNOW WHAT THE FUCK TO EXPECT. Come on lady. I haven't had the chance to talk to the band about this directly, but it sure as hell fires me up. In less than a day after the judgement was made, a friend sent me this link,
a petition to help overturn the judgement.
I immediately signed it. You should too. It's going to suck to think about what this is going to do to bands at this point who stage dive. Shit, even 50 year old Dicky Barrett still stage dives. Fuck, everyone does. See, I told you this shit fires me up.

I'm happy NYC's own Mephiskapheles is still playing since a year ago when they came back to us. Unfortunately, not everyone in the east coast has missed them. It sucked when all that bullshit went on with the Chance in Poughkeepsie crap happened (read my entry back on March 11th) and then I heard it sucked again last night. I wasn't there, but I was informed how sad it was that when Meph played in RI last night, there was about 30 people in the crowd. Maybe it was just bad karma to watch a satanic band the night before Easter. Who knows. Either way, this pic was taken at that show. The Nubian Nightmare still looks like one evil motherfucker.

If you didn't get a chance to see the Ska Goes Solo Tour, you'll get a second chance to coming up in May. Yup, Chris DeMakes from Less Than Jake, Ryan Eldred from Catch 22, and Jay Tea from The Arrogant Sons of Bitches have scheduled 4 shows on the east coast. I got to see them when they played at the Knitting Factory and I got to say it was worth it. I mean, that DeMakes kid has some funny jokes (every now and then). If not, just go for the eye candy. Yeah, they're a bunch of cuties.

And finally, I got to give props to Big D and the Kids Table. The band shared this pic of their tweet and I got to say how awesome it is that Drew Carey calls them HIS pals. I've been a fan of Drew Carey since his show, through Whose Line, and now with The Price is Right. I even saw him live a couple times doing improve with his Whose Line buddies. I love the guy. Maybe we'll get to see him at a Big D show. How cool would that be!?!?!? See you at the shows!
April 15, 2014 - Tax day. Yay. Can you hear the enthusiasm in my voice? "Morons, I paid my taxes last year." That's my favorite Homerism; so much so that I have it printed on my checks. This year, those bastards are making me pay, YET AGAIN, a 4-digit figure. I know, it's taxes that I would have paid anyway, but it doesn't make it suck any less. You know how much ska merch that would buy me!?!?!? Let's get down to business before my bipolar meds start to wear off.
Ska shows. Ahh, the love of my life and I've done such a shit job of being a good
rudegirlfriend this year. The shitty freezing weather and all that snow took quite a toll on getting around. Now that it's hopefully in the past, let's check out what's coming up.
Goddammit. Seriously, so much happens as I'm typing away here. This paragraph was going to tell you about the upcoming Sammy Kay tour that was planned to go through the midwest, down to Florida, and back up the east coast, but now it's not going to be about that. Sammy just posted this on Facebook just 30 minutes ago: "Hey everyone. I don't want to talk details, or anything about it really more than those that know, but if you know me, you know I have ad a series of problems in my life. I'm checking into a facility tonight. I don't know when I'm getting out, but I will come out a better and stronger person. I love each and every one of you." I love Sammy like family and will patiently be waiting for his return. We love you dude. <3

See you at the shows!

March 19, 2014 - Raise your hand if you got trashed for St. Patty's. ::Raising hand:: Hey, when Reel Big Fish ends up playing NYC on that day, there HAS to be drinking....so don't blame me. At least it was a puke-free night, though I did suck down a gallon of water the next morning from dehydration. The show itself was great. Reel Big
Fish had posted before the show asking for song requests. mine literally was "DRUNK AGAIN!!!!!" I knew that Scott Klopfenstein, RBF's other singer/guitarist/trumpet, would be there now that he lives in NYC....and he showed up. But even better, he was the opening act. Scott has been working on solo stuff for awhile after leaving RBF, but I hadn't had a chance to go and see him. And I'm glad I got there early enough. Now Scott doesn't play ska, but his voice and playing are so rich, meaning the type of singers that belt out songs in Broadway musicals. After his set, Scott told me that he's been working on an album and will eventually do a Kickstarter fundraiser. Any time I've seen a ska band create a Kickstarter, they've achieved their goal. This is not going to be an exception. A couple of friends have asked to see vid of Scott since most folks outside haven't seen anything from his solo stuff yet....but lucky you, I got a new tune and everyone's favorite (and a squeal from me) Drunk Again. I'll let you know when my lazy ass gets around to it.

So that Bosstones show in Baltimore....yeah, good shit, man! As promised, the guys played over 75 mins and all the tunes good ones...I mean, not like they ever play a bad tune, but come on, it's the Bosstones we're talking about. Wait, I take that back; the two craptard songs are NANANANANANANA and Death Valley Vipers...and I have no shame in saying it. I even said it after the show to Tim Burton, one of their tenor saxists. It's not like I was like "Hey Tim, you song sucks" but he was telling me about how much he was done living in Jacksonville FL, started immediately singing a tune he made up about how shitty that city is and then when he got to the filler part and how useless it is, I was like "Yeah, like NA NA NA NA. He laughed. Best part of the night though was having the Pietasters come join the Bosstones on stage for 2 songs: Alan on sax and Jeremy on trombone joined them for The Impression that I get and Jackson joined as well to sing with Dicky on A Little Bit Ugly...both of which I shot as one vid. I'll let you know about that one too. It was truly a great night. I have to also give a super duper, non-pooper thank you to fellow 737 family member Mike Addeo for picking my ass up. He even went a little out of way to get me, but he said that he'd do it if it meant that I'd go to the show. I mean really...a ska show without me just isn't a ska show. Well, a ska show without me AND/OR Skankin' Richard just isn't a ska show. And another big thanks to Rachel at Feed The Scene, a Baltimore non-profit that houses bands as they come through Baltimore, giving them a a roof over their head, a comfy bed to sleep in (with the house rule: No spunk in the bunk), and food on their plate. Unfortunately, she doesn't put clothes on their backs, which I personally have no problem with. None whatsoever.
Oh, and by the way, a nice big laugh in the face to the 2 fuckers, one from each show, that thought pushing me was a good idea. The first guy who was at the Bosstones show came up to the top of my shoulder and I laughed that one off. I got to give him credit; he did try, but there's no chance you think you're taking my place against the barrier. Of course though, that left him standing behind a guy who was about a foot taller and a foot wider than him. As for the second guy who was at the RBF show thought he was going to push my friend in front of me and the girl to her right....both girls standing no taller than 5'2" was getting pushed by a big guy over a foot taller. I'm 5"9" and gave the guy a good shove along with another 5 people next to me. When he stupidly shoved back, security
cragged
him out of the venue. Ya know, I tell folks all the time not to fuck with me during a show.
Some
people just don't listen.
Finally, I want to let the world know that the Pietasters have two really kick ass shows
coming
up. One is at DC Brau Brewing Company, yeah, the brewery that made the Pietasters' special edition beer called 'Tasters Choice about a year ago. It kind makes it easy that Budman,
their drummer works for the company. I'm sure he drinks beer...lots and lots of beer. That show is on Sunday April 19th in DC of course. And for the Pi
etasters' other kick ass show would be their annual NYC booze cruise!!!! As most of you know, this is what I look forward to every year. Last year they didn't have one because they played at City Winery during the summer, but this time the cruise has already been booked this early. It's going to be on Friday July 25. Please plan accordingly. It's not listed on Rocks Off's site yet, but hearing it directly from the band makes it pretty accurate to me.
OMG!!!! Breaking news for a sec here! So I'm typing this from one of those stupid teacher math workshops again and the guy sitting across the table is playing songs barely audible since there are others sitting around him. He's listening to things like Aerosmith, Green Day, and all kinds of other rock....and then I hear JUSTTTTTT the guitar screeching at the beginning of the Bosstones's tune Desensitized, not even breaking into any other note and he changes it. I blurted out "You're a Bosstones fan!?!?!?!" Dude was absolutely blown away. BLOWNNNNN AWAYYYY that any random person could get that and just from 2 seconds of the song. He said he was a little, but it was that song he really liked. ::curtsy:: Thank you, thank you very much.
Finally, I want to leave you with this pic. I'm on the left (with the most snazzy shoes EVERRRRRR and my buddy Mike from Philly is on the right. Immediately the lines from the Bosstones' tune Hell Of A Hat: "
Man, I really dig your shoes. Fat fade and fresh tattoos." Well, Mike is the one with the fresh tattoo. Mine is just 15 years older. I just love how excited he was to show it to me. Check this shit out! Fuck yeah! See you at the shows!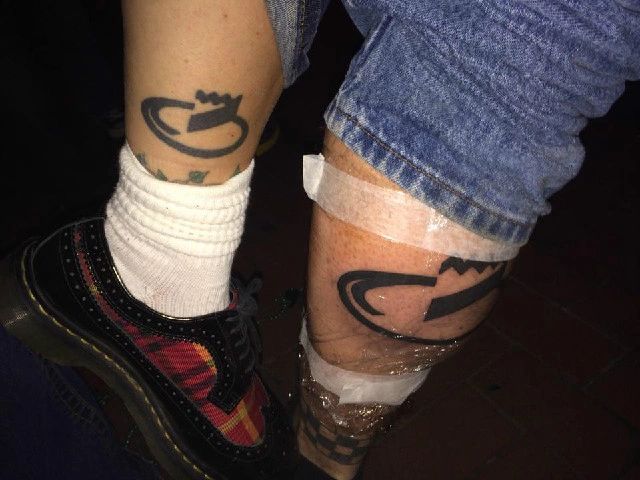 March 11, 2014 -
It's Parent - Teacher Conferences today in NYC public schools. I hated those days when I was a kid as much as these kids hate it....except I didn't cry like the way they did because I knew crying meant a harder spanking. Kids these days don't get spanked since you can't hit a child. Shit, I got the shit beat out of me and I didn't fucking doing it again; I knew better. No wonder why kids don't give a shit today.
Forget reality, let's daydream about ska. First, I want to talk about a serious dick move: The Chance in Poughkeepsie. On Saturday afternoon, I was totally stoked that I was going to take the train from the city to Po'town to go see the Pilfers/Meph/HCS/RBG/(and opener) show....an awesome line-up and I was looking forward to it for weeks. I mention to friends again Saturday afternoon how excited I was for this line-up and that it's been since mid-January since I've been to a fucking show. ERRRRRRRR!!! The brakes come to a screeching halt when the guitarist of Hub City Stompers tells me to hang on; that there might not even be a show. Huh!?!?! This is being told to me at 2pm ON THE DAY OF THE SHOW and it's 2 hours to get up there. I contacted a buddy of mine up in Po'town and I was told that pre-sale ABSOLUTELY SUCKEDDDDDDD. Hell, I didn't buy a ticket, mostly because of the cold, but I knew it wasn't a show that would sell-out...so if I didn't go, I wouldn't have wasted the money. So I wait....and wait....and wait. Around 4pm, I got calls from other musicians who were on the bill state that, financially, it wasn't going to be worth it to have the show go on unless bands took pay cuts. The final decision? The show would go on and only two out of the five bands decided to stay....The Pilfers and HCS; the rest bailed. That decision was just before 5pm....and doors were at 7pm. What kind of way is that to run a show!?!?!?! Yeah, I understand that bands need paid to perform and wouldn't want to go 2 hours north to not get paid/get a pay cut, but just a couple hours before doors!?!?!? Yeah, that's a dick move. I ultimately bailed out after hearing all of that, and since they AREEEE NYC ska bands, it's not like I'm missing out. I'm just thankful I didn't make the trip to find out all of that later. I would have been one pissed off rudegirl...and we don't want that.
In other news, Gregory Lee, one of the singers of Hepcat announced over the weekend that he was signing off of Facebook, that whomever needed him would find him and that there is life beyond Facebook. Pfft, Yeah right. That only lasted a whopping couple hours before Greg got fed up with everyone's whining and said he'd stay. Of course I was one of the whiners. I told him I appreciated the updates on Efren, plus Greg has one of the cutest kids in the ska scene.
Looking ahead....way ahead, you'd be glad to know I found out the date already for
this summer's annual Slackers' booze cruise
!!!
And if I'm correct this should be the 14th or 15th year
in a
row that The Slackers have done this. Seriously, one of the few shows I look forward to every year.
This year it's on August 23rd and you can already buy tickets for it...and don't fucking wait. So many idiots do and IT ALWAYS SELLS OUT. Maybe you didnt hear me: ITTTTTT ALWAYSSSSS SELLLLLS OUTTTTT. Did you hear it this time??? Open your fucking ears cause there are always cry babies sitting on the dock watching the boat cruise away.
Remember, ITTTTTT ALWAYSSSSS SELLLLS OUTTTTT. I said it always sells out, right? Ok, just checkin'.
Saturday is going to be a MIGHTY fucking good time. ROAD TRIPPPPPPP!!! Yup, it's the Mighty Mighty Bosstones show down in Baltimore and 4 of us are hauling ass for 5 hours (one of us is hauling ass for an addition 4 hours) to get there. I have no idea about which other 737 is going to be down there, but it's going to be a nice little Throwdown (dysfunctional) family reunion. I'm not driving so there may or may not be drinking. Who am I kidding??? I'm friends with a bunch of raging alcoholics, so there will be drinking and lots of it, possibly some puking.
If you're not road tripping, don't forget that The Slackers are playing in Long Island on Sunday night and Monday night is Reel Big Fish at Brooklyn Bowl. Personally, I'm in a mood for a Pietasters show. It's been too long, since December 1st. In Michelle Ska years, that's like 50 years. Man, I'm going through some serious show withdrawal. I'm glad it goes away this weekend. You guys don't need me to be a bigger bitch than what I already am. See you at the shows!
February 27, 2014
-
The questions I've been asked in the past week, which is typical for me:
"

I'm at the Toasters [in Long Island] and all I could think of is 'where are you?'"

"H

ey lady! Will you be at the pilfers show at The Chance [in Poughkeepsie] on the 8th?"

"D

id I tell you I am going to Fishbone in April in San Fran? You should come to the show with me."

"S

o not this week but the following week is the Pilfers show [in Poughkeepsie]. A

re you going?"

"H

i! You thinking of going to The Pietasters show on Saturday [in Delaware]? I'll see you Friday though [at the Chris Murray show in NYC]?"

"Are Vinny and Anna playing with the Pilfers in Rhode Island? I need to decide if I should head to RI [from CT]"

"See you Friday at the Pilfers in Warwick [Rhode Island]?"

"Are you going to see the Bosstones in Baltimore on the 15th?

I'm trying to figure out if I can go [all the way from New Hampshire]... I will be at RBF though, in Brooklyn [on the 17th]."
Notice how much ground that covers? More ska talk and at least less of these kind of conversations lately..."Coming from a girl who loves giving rim jobs, yes, I find it peculiar you don't like bacon." (Uttered by a singer of a ska punk band to me.) Oh wait...giving??? He meant GETTING. No, really.



So yeah, back to ska. I like that shows are back in full swing. I haven't been to a show since January 17th and I'm going through some severe withdrawal. At least some good shit is coming up. We have Chriss Murray at Don Pedro's tomorrow night (friday). There is also The Pietasters playing a free show at Dogfish Head Brewery in Rehoboth Delaware Saturday (which I was highly considering even though it's virtually impossible to make the trip). We have The Bosstones on March 15th playing a FREEEEE SHOWWW in Baltimore (of course I'm fucking going) followed by the next day with the Slackers out on Long Island that Sunday, and then topped off with Reel Big Fish at Brooklyn Bowl on that Monday.



Did I say free Bosstones show!?!?! Fuck yeah I did! The Bosstones announced a couple days ago! Well, they didn't exactly announce it formally, but they told the 737 first by saying "737---3/15---410---$0." After the group went nuts trying to figure the shit out and their bassist Joe Gittleman said we were on the right line of thinking,

we all started booking flights and organizing carpools. Not only am I going, but I heard that most (if not all) of the Pietasters will be in attendance. I'm hoping to see The Pietasters' singer Steve Jackson sing with the Bosstones again. It's been about 3 years since that last happened. ::crossing fingers:: Go check out The Bosstones site for more info.


And to leave you on my always-happy random end note, I'd like to share the suggestions I've had with friends (and by the band members themselves) on what a Pietasters' cover band should be called, if some should ever exist: The Poetasters, The Caketasters, The Prostitutetasters, The Whoretasters, Skanomore, Murders in the Ska Morgue, The Cask of Tasters' Choice, The Fall of the House of Ska, The Pieeaters and.... [drumroll]... The Pootasters. There were also were two suggested next album names for the Pietasters: "Jimbo's Lemonade Surprise "and the other suggestion was Dildoozer. LOL. Such a classy reputation...which is exactly why I love them to death. See you at the shows!
February 22, 2014 -
Times are a-changin' in NYC and it ain't looking pretty. First, it was NYC law that forces food establishments to post their calorie counts RIGHT NEXT to the item on the menu....and of course I'm still going to eat
the 1090 calorie Blackbottom Cheesecake Brownie Cupcake at Crumbs
. Then
Grey's Papaya on 14th Street closed down in January
.
Roseland Ballroom is closing in April
. During his campaign, Mayor DeBlasio promised to
stop the Central Park horse drawn carriages permanently
. And nowwwwwww
Junior's Cheesecake is selling their flagship (original) store in Brooklyn
!?!?!?
Ugg. To quote the wisdom of Bart Simpson "I didn't think it was physically possible, but this both sucks and blows." I guess we should just be thankful that
the soda ban ain't happening
and the
"Stop-and-Frisk" free minute-molests in subways are ending
. Here, this always makes me feel better... it's Monty Python's tune
Always Look On The Bright Side Of Life
. If you didn't know better, you would have thunk I wrote them lyrics. Shit, now I'll be whistling the melody all fucking day.
Anywho, I got some news fer ya. First, an update about Efren Santana, Hepcat's tenor saxist that I reported on last time. Here is what Efren's brother Noe said. "I just wanted to give everyone an update in regards to my brother Efren Santana. Tomorrow (now a couple days ago) he will finally be discharged from the hospital to be with family, where he will finish his recovery. He still has a long road ahead of him, but we will be there every step of the way. We would like to above all THANK God and everyone for all of your prayers, positive vibes and donations. We truly appreciate you. We also would like to Thank our Family, Hepcat, and The Perry Roaders for all of their love and support. You are all such a big blessing to my brother and family. ~The Santana Family." Good to hear things are okay.
With that in mind, it makes me wonder if Hepcat will play again, which then got me thinking about Toots Hibbert. Last May Toots of Toots and the Maytals was performing on stage when a glass bottle thrown by some asshole kid hit Toots in the head.
According to the article
, it says the lawsuit covers his inability to perform and earn a living. All I hear from the voice in my head is "Dude, you're not going to see Toots play live again." This fucking kills me and I still want to kick that kid's ass.
On a lighter note, there's good news coming from The Aggrolites' front man, Jesse Wagner! Jesse told fans the other day "For those of you who have been following me on Instagram and Facebook you should know about my children's album I've been putting together. My apologies for it taking so long to release, but I am very proud to stay that within this last week, things have been coming together like clockwork. Here is a little sneak peak (rough sketch) of the album cover for the soon-to-be-released Happy Wags album. The artwork is done by my talented friend Alteau... I can't wait for you parents out there to have a copy of this album. You and your kids are gonna love it." Below is the cover art he mentioned....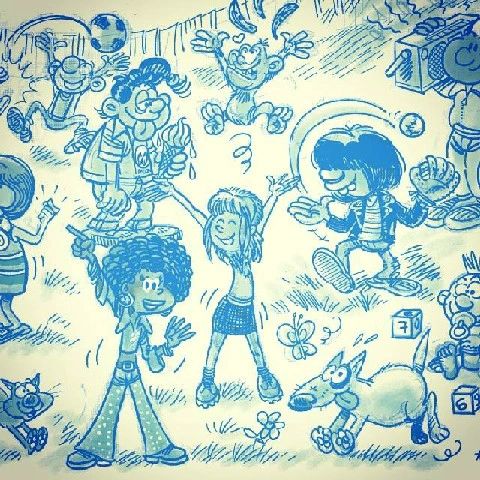 I got to be honest and admit I don't give nearly enough shout outs to Sammy Kay. Originally a Jersey kid and then a New Yorker, Sammy has come such a far way
since
doing merch for easy coast ska bands as a teenager. He began by stepping into Brooklyn's rocksteady scene with the Forthrights and now moved on to doing his own thing as
Sammy Kay and the Fast Four
.....though I have no idea where he now considers home. He says Los Angeles, but the fucker is always on the move (which helps explain his "Born To Run" tattoo). Take a seat,
listen to his Tom Wait's cover and a couple of his own tunes
, go out to his shows, and buy the man a beer or 5. Be sure to also pick up his album LOVE LETTERS and buy his hoodie. He has shirts too, but buy his hoodie. It's by FAR the coziest hoodie I've ever bought from any band. After you do all that, keep an eye out for his upcoming venture: Making a folk record with Pete from the Bouncing Souls. Sammy said it's going to be "An American record. Good ol' rock and roll." The first tune that plays on the link I linked above is a good heads up of what you'll get....and don't piss around to listen to the song; it's coming down after the weekend. He'd love for you to go check him out at
his next show at Asbury Lanes
, but if that's too punk for you (hell, it is for me), Sammy plays plenty of other shows with ska bands. See him live and you won't be disappointed. He's one of the most loved ska/rocksteady/reggae musicians around...and he's cute too to boot!
And speaking of Brooklyn rocksteady, The Slackers' guitarist, Agent Jay, will be doing his own Crazy Baldhead gig on Sunday, March 9th at Drom down on Avenue A. You HAVE GOT TO go see this with a line of of the most awesome NYC musicians in the scene: Agent Jay from The Slackers on guitar, Brukky from the Frightnrs on lead vocals, Eddie Ocampo from The Insteps/Stubborn All-Stars on drums, Dan Jeselsohn from DHRS7/Mephiskapheles on bass, Vic Ruggiero from The Slackers on keys, Buford O'Sullivan from The Scofflaws/Easy Star All-Stars on trombone, Dave Hillyard from The Slackers/DHRS7 on
saxophone, and the one and only Larry McDonald on percussion. Whew! They are going to be playing songs from the albums Boots Embraces, The Sound of 69', Crazy Baldhead Has a Posse and more. This sample will give you a good idea of what to expect. Seriously, with a line up like that, the show doesn't start until 10:30pm, and only 10 bucks....how can you go wrong!?!?! No way I'm missing this.
In my last post, I told you guys about Roddy Raditation, lead
guitarist
of the Specials, announce that the was leaving the band to focus on his band Roddy Radiation and the Skabilly Rebels. On Friday, Roddy had this to say: "Boo hoo! Nobody wants too chat too me since I left the Spareshells." lol. Cute.

I love hearing what ska friends have to say. I have to quote my buddy (and owner of the ska record label Asbestos Records) Matt Flood. Matt recently joined the crowd of babymakers who are churning out the next generation of ska kids and this is what he said the other day: "Step 1- Make infant son dance to Fishbone's Skankin To The Beat. Step 2 - Smile as he laughs and smiles back. Step 3 - Clean vomit off shirt." I'm not sure if I should feel like I'm missing out by not having a kid.

....and finally....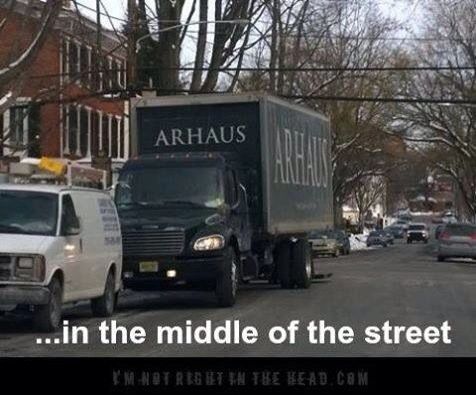 ;) I knew you'd like that one. See you at the shows!

February 9, 2014
- 40 days into 2014 and I've made it to a whopping THREE shows. Just to see if it was just me, I asked Skankin' Richard how many he's made so far this year: TWO. Wow. Ok, now I don't feel so bad. He blamed the weather too. Good to know it's not just me. As I was reading the forecast for tonight in NYC, I swore it said "Snow this evening will taper off with even more of this fucking snow shower bullshit later. Snowfall amount indefinite." Seriously, can someone turn off the damn snowmaker??? On brighter side, I got a shit ton of ska news for you. I'm going to keep it short and sweet since my
toesies are fweezing. I'll even bullet point this shit to get it done faster. Here we go...

Back at the Slackers holiday show, Vic admitted that the band plays rarities for out of town folks pretty often yet really doesn't do it for the hometown crowd. I know it's true since I've seen them a kajillion times. Then on Feb 1st, The Slackers said they were practicing Treat Me Good from their Better Late Than Never album to play on their current southeast tour. WTF??? I bitched about it to them. Hopefully the bitching works.
At that same Slackers holiday show, there was a box that the band asked fans to write a song request on an index card, they'd pull them from the box and play them. One of the cards said "How about 1 song that doesn't suck." Vic and Jay both laughed at it on stage and showed it to everyone. After the set, I took the card, had the band sign it....except for Ara, their drummer. I was told he immediately went home after the show since he always does that. I took the pic and shared it with friends. After closer examination, the band said they realized the handwriting was that of one Marcus Geard (their bassist). On February 1st, I see Ara repost the pic I took of the card and I had to write to him as soon as I saw it. "ONE person in the band didn't sign it because he had to get home before him bedtime....AHEM! I actually still have the card and still want my signature, Mister!" Ara replied "Yeah, I like to sleep. I'll sign it. But I sign everything as TIM ARMSTRONG so I'm not sure if that's going to help you." LOL. Here's the card I speak of.
In even more Slackers news, the band announced they will be participating in Punk Rock Bowling this year out in Vegas. As far as I know, that's the only ska band on the bill. I'll pass.
On the other hand, there IS a ska fest that I won't be passing on: The 3 days of Fistful of Ska out in Des Moines Iowa on May 16, 17 and 18!! I know you're thinking and I'll tell you the answers. Yes, there is actually a ska scene out there. No, this isn't their first time. Yes, the bands on the bill (last year and this year) are decent. And no, I really don't think there is any other real purpose in going to that entire state. And the best part??? They have Mephiskapheles, Hub City Stompers, Survay Says and Sammy Kay on the bill!!! I want to go, but not sure yet if I can actually make it. Check their Facebook events page to check the line up, the location, and how to get early bird discounted passes. Doooooo itttttttt.
On a sad note, One of Hepcat's long time tenor sax player, Efren Santana, is in need to help pay for medical costs. I'm not sure what the situation exactly is, but you can go to their fundraising page to donate money.
To follow up on another musician in need is the Bosstones' good buddy Jake Gregg. For the past 2 years (not this past year, but the 2 years before), Jake's folk band Suncooked opened for the Bosstones at their annual Hometown Throwdown in Boston. Suncooked earned their way proving to their professor, the Bosstones' own bassist Joe Gittleman, that they were worthy of such a set. Then around a year ago, Jake was suddenly diagnosed with Acute Myeloid Leukemia at 20 years old.

You can read more about his story and to make donations on his fundraising page.

Jake is a close personal friend of mine and I made sure at this past Throwdown that he was able to enjoy as much as the other ones, which he did. He was grateful everything everyone has done for him. Now if only someone will send him some edibles, he'd be a much happy camper. Show the guy some love.
"Specials lead guitarist Roddy Radiation Byers leaves the band" The Conventry Telegraph reports. Fuckkkkkkkkkkk. I know some of you aren't surprised, but it doesn't mean it still doesn't hurt. Personally, I thought Roddy would have kept up doing both since The Specials don't tour heavily. I had a chance to flirt...err, talk with Roddy awhile over the summer when I stalked...err, shadowed the band all over the east coast and he seemed pretty happy with everything. I'm not sure what's going to go on with the Specials from here. I'd like to say it's going to be tough to replace such a man, but then The Specials did replace Jerry well with Nik (whom I might also add is equally as dreamy as Roddy). I feel if Roddy is at least going to keep playing and touring with The Skabilly Rebels, then I'm happy that he's happy and that I'll get to eventually see him again.
I got to admit, I find it amusing when I hear ska being played in unusual places. Two recently ones were once in Duane Reade (pharmacy) I heard Reel Big Fish's Sell Out and I wouldn't leave the store til the song was over and then again, the same song was played a week ago by the Tonight Show band during the transition to a commercial. Pretty cool.
A few more ska shows in the area announced that I updated on the ska show calendar: Reel Big Fish/Suburban Legends, King Django, The English Beat, Mephiskapheles, Pilfers, Less Than Jake, and more Slackers shows. Everyone always needs more Slackers shows. I'm hoping to hit my 100th Slackers show by the end of this year.
This shit was supposed to be short and sweet. Look what I do for you folks. Well, that's all I got, people. See you at the shows!
January 31, 2014 - Fuck, man. It's already the end of January. What the fuck. At least for me it's a work day, but spending it at a teacher workshop. The school's version is 8 hours of learning about math. My version is pissing around online for 8 hours, hence this post. This shit bores me to death. Where's the excitement? Where's the inappropriate socialization? Where's the porn? The Skinnerbox song "No Fun" is looping in my head. Ugg.
Fuck the kids. Let's move on. Did anyone make it to that Pilfers show at Gramercy Theater? Of course, if you were there you already know what happened. If you weren't, you missed out on a fun adventure.
Right after Metro Stylee's set ended, the house lights went up and an
announcement was given stating everyone needed to leave the venue due to the small of gas. I loved seeing all the alcoholics chugging their drinks before walking out of the door. We got hard nipples lining up in the cold outside without jackets, we got to make new friends when we asked each other who was it that farted, and after the fire department made a spectacle with their sirens, they cleared us to go back in and everyone went right back to the bar. for $2 off every drink. Pilfers played one of their best sets since they were allowed to go past the curfew time.
By the way, I fucking missed all 3 area Meph shows. It's too fucking cold or it's fucking snowing. How do people in Minnesota deal with this shit? Well, I actually asked my fellow ska-scenester Adam. After whining to him, he said "Just bundle up. I saw the Pilfers in negative 3 degrees. BTW, how cold is cold?" True, temperature is relative, but come on. Negative 3 is fucking cold to everyone. Adam then added that my excuses for missing those 3 Meph shows should have been seafood binge, Godzilla attack, and spy mission...on the other hand, all of them could have been valid reasons.
Sorry, but I have interrupt here for a moment to share with you what I'm going over. I just have to show you what type of math task 5th graders are expected to master (and this just ONE assignment):
Mike has 4 hours of music on
iPod.
1. Jazz makes up 1/6 of the total time.
How many hours of jazz are on Mike's
iPod?

2. Are there more than or less than 60 mins of jazz on Mike's
iPod? Explain how.

3. 2.5 of the jazz is by musicians from New Orleans. How many hours of New Orleans jazz does Mike have?
4. On Mike's ipod 5/6 of the 4 hours of music is ska (yes, I changed it). How many hours of ska does Mike have?
5. Mike's sister Miranda says 15/18 of the 4 hours of music is ska. Is she correct? Explain how you know.
6. Mike plans to reorganize the music on his
iPod
. After the
changers he is planning, he will have 2 and 4/5 of ska on his iPod. Is Mike planning to add or remove ska from his iPod? Explain how you know.

7. How many hours of ska will Mike have after he makes the changes?
8. The front face of Mike's
iPod is a rectangle that is 2 and 1/2 inches long. The width is 7/8 of the length. What is the area of the front face of the iPod?


FUCKKKKKKKKKKKKKKKKKK THISSSSSSSSSSSSSSSSSSS. I mean really, who the fuck figures out their music on their
iPod with multiplying fractions!?!??! If it's you, you're a fucking asshole.
Ok, back to ska. I've heard of a couple up coming shows. On short announcement, Brooklyn's own band, The Attractors will be playing tonight at

Port Royal, 837-839 Union st. between 6th+ 7th aves in Park Slope Brooklyn(under the Tea Lounge). The Attractors are a mix of a few of the Westbound Train guys with a few past Toasters mixed it. Expect the slower rocksteady and reggae tunes from them. And then

Reel Big Fish is back around and stopping by Brooklyn Bowl on March 17...yeah, St. Patty's Day. I can't tell if it's going to be a
boozefest of assholes or if it's going to empty as hell. Either way, you know I'm still going. That's all I got. See you at the shows!
January 19, 2014 - 1 show??? 1 FUCKING SHOW!?!?!? THAT'S IT!?!?!? Seriously. There are only a handful of shows I found coming up and only 1 of them in NYC: Pilfers tonight at Gramercy Theater (NYC). The others I found are 2 Toasters shows (in Stanhope NJ and Patchogue LI), Less Than Jake playing the Atlantic City Beer and Music Fest that's not until April, another Pilfers show in Poughkeepsie NY, and Mephiskapheles/Inspecter 7 (in Amityville LI with The Pandemics, Hamden CT, and Stanhope NJ). What the fuck is wrong with you people!?!?!? Shit, even The Girl Scouts are out more often selling cookies than ska bands are playing shows. I mean, I love my Samoas a shit ton, but I love my ska more. FUCK. This is such bullshit. I need someone to go smoke a cigarette for me.
Fuck. Ok, ok. With that out of the way, there isn't much to say as far as news goes. Bomb the Music Industry is playing their last NYC show tonight at the Warsaw in Brooklyn. Who cares when NYC's own Pilfers are in town. That's really it. There's no new ska babies, no big tours announced and if they have it's been somewhere else, I searched around on specific bands' sites for dates....none, and....oh, wait a sec...I think we got something!!
Mustard Plug
just released a new album! It's called
Can't Contain It
and you can
pick it up right here,
right now. Oh, and The Pandemics are selling tickets directly for their Meph/I7 show in Amityville gig. They're selling the tickets for $12 instead of the $16 it'll cost you online or at the door. Contact them via email at
admin@thepandemics.net
for the goods. Just don't make it look too much like a drug deal. I updated the ska calendar with those whopping few shows and put up a new flyer in the Ska Flyers page. Interesting, eh? Now ummm, no one has gotten arrest and I haven't done anything relatively stupid. Now what??? Shit, I might have to learn how to read books again. There's this thing I heard about where you go to read books called a library, where you don't have to buy them. Who'd thunk? Meh. Fuck that. I'm going to go sit on Facebook for a couple hours and fry the rest of my remaining brain cells. See you at the shows....err, show! Fuuuuuuck.
Wait, before you go I have to share something that will make you smile. Well, it made me smile. I really couldn't give a shit about you.
January 5, 2014 - Fuck saying "happy new years" and get right to the fucking point: How many pounds did you gain from Thanksgiving til now? Did you get shit you didn't want for Christmas? How many relatives did you try to avoid? Did you make a resolution that you've already failed at? Yeah, I brought out the holiday cheer. Thank god it's over. My holidays weren't bad. I was just asking you if yours were.
Ready to get jealous and/or sick? Last year I went to 57 ska shows. 741 shows since Day 1. Here's my life time totals of the bands I frequent the most at shows as of the last day of 2013:
116 Pietasters
90 Slackers
79 Reel Big Fish
63 Mighty Mighty Bosstones
58 Spring Heeled Jack
53 Less Than Jake
50 Pilfers
42 Toasters
42 English Beat
37 Big D and the Kids Table
36 Inspecter 7
29 Scofflaws
26 Westbound Train
25 Fishbone
24 Mephiskapheles
22 Mustard Plug
There are plenty more numbers where they came from, but I'm not about to do every damn band. The coolest thing out of all of this data???? My 737th show was the first night of the Bosstones Hometown Throwdown this year. Trust me, that makes me really cool.
As for 2014, there isn't too much coming up. The Ska Goes Solo Tour with Chris DeMakes from Less Than Jake, Ryan Eldred of Catch 22, and Jay Tea from The Arrogant Son of Bitches is around. I went to the one on Saturday at the Knitting Factory in Brooklyn. Not too shabby and was worth going. There are a few other of those shows in the tri-state area and then they are coming back in May since the snow storm canceled 2 dates. Not sure which days in May, but I'll letcha know. Other than that, the next shows around here are only The Pilfers with Metro Stylee on Jan 19 at Gramercy Theater and then Meph and I7 Jan 24, 25, and 26 in the area. That's not nearly enough. See you at the shows!
November 30, 2013 - I was a kid of the 80s. I never heard of a movie selling out until I tried to see Ghostbusters. I dressed up as Starchild (AKA Paul Stanley) from KISS for Halloween. I watched The Muppets and Solid Gold. I took off the stickers off a Rubiks Cube to put them in the right place. Every Sunday morning I listened to Rick Dee's top 40. I wanted to own Kit. Poltergeist instilled my hatred for clowns. I wore legwarmers and shirts with shoulderpads. I spent days at a time playing with My Little Pony with my best friend. I still own one that I never gave up: Cotton Candy, the pink one with little balls of white cotton candy on her rump. I know "Where's the beef?" and when it's "Time to make the donuts." My family drove a station wagon. I memorized everyone's phone number and my dad grounded me constantly for the outragious phone bills because they charged a few cents per minute...and I was on for hours at a time. I rocked playing Kaboom and Stampede on Atari. I watched The Thundercats every morning before school and would wake up early on Saturday mornings to watch The Smurfs. I have in storage The Smurfs Sing-Along album on LP that I ordered off a TV commercial. I owned one of the early issued Cabbage Patch Kids...that had yarn as hair and that only was attached at the hairline. If you took her ponytails out, there were bald spots because they didn't give them full heads of hair. I still have her too in great condition because I didn't want to play with her. I didn't like when my toys got dirty.
For the past couple days I've been watching The Goldbergs, A TV show that takes place in the 80s based on creator's Adam Goldbergs' real family. It's pretty accurate, but I have a big disappointment: There's no checkers, reference to ska, or any ska played in the show. I'm not saying the show completely sucks because I expect ska to be in it, but hearing Our House by Madness, Red Red Wine by UB40, and The Tide is High by Blondie was a regular thing on the radio back then. The very first time I heard the word was when I was asked "Do you like ska?" and my reply was "What's ska?" "You know "
Our house, in the middle of our street..."
Of course I knew the song. "That's ska." Who knew that that would be the start of a massive obsession I would have with the music. Since then, I've tried to seek out any reference of ska in 80s culture. The British sitcom
The Young Ones featuring Madness
(1982), The English Beat's tune "March of the Swivel Heads" played during the end
chase scene in Ferris Bueller's Day Off
(1986), the movie
Back To the Beach featuring Fishbone
playing "Jamaican Ska (1987)," and The Specials' Little Bitch being played in the movie Sixteen Candles (1984) to name a few. There's no good excuse for The Goldbergs not to reference ska. Bastards.
Fast forward to present time and let's take a look at what's up:
I'm missing shows left and right. Here are my reasons in the past couple months: Bosstones in MD on Sept 14 because my ride suddenly remembered she had a wedding to go to. Jimmy Cliff at Webster Hall in NYC on Sept 28 because I chose the Pietasters instead (Though not really a bad reason). Scofflaws at Characters in Midtown or The Attractors at Two Boots in Brooklyn both on Oct 19 because I had strep throat. Mephiskapheles with Inspecter 7 at The Knitting Factory on Oct 25 because of an overwhelming amount of teacher paperwork. Big D on Oct 27 at Webster Hall because I sat in a seat typing an IEP (a mandatory legal doc for spec ed kids) for 7 hours straight. The Skatalites on Nov 14 at Brooklyn Bowl because of Parent-Teacher conferences. The ska benefit show with Skinnerbox, Meph, Rudie Crew and a slew of other ska bands at BB Kings last Monday because of more fucking teacher paperwork. And the latest one was last night I missed the Pietasters in NJ (and again tonight in RI) because it was in the 20s and I'm not about to freeze my ass off in subzero temps. A little bit of a science lesson here: Going 60mph in 20 degree weather drops the temperature down to NEGATIVE 4 DEGREES. Yeah, that's how wind chill works. Fuck that. Missing all these shows are not because of other people. Many of you have been thinking that's the case. Nearly everyone is noticing I'm not there, especially the musicians. I feel like a failure because Skankin' Richard is most likely going to beat me for being in most attendance at ska shows in 2013. Dammit.
I am still making it to shows, just not nearly as much. I still made it to see Spring Heeled Jack/Obi/Sammy K at Asbury Lanes on Oct 26, Less Than Jake/Mustard Plug at Starland on Nov 9, LTJ again on Nov 10 at The Highline Ballroom, Nov 12 at Best Buy to see Reel Big Fish, Chris Murray/The Frightners at the Swamp on Nov 17, and then Badfish last night at BB Kings. That's not a lot, at least for me.
There are at least a good few shows coming up too. I'm going to make this easy on you so you don't have to look at the ska calendar:
Dec 1 -
The Pietasters/Across the Aisle/Reggae Lords at The Knitting Factory
Dec 8 -
The English Beat/Pandemics at The Chance in Poughkeepsie
Dec 13 -
Westbound Train/Frightners at Webster Hall
Dec 14 -
Jamaican legends Keith & Tex backed by Crazy Baldhead at Littlefield in Brooklyn
Dec 19 -
Slackers at the Stanhope House in NJ
Dec 20 -
The annual Slackers holiday show at the Bell House in Brooklyn
Dec 27, 28, and 29 - It's that time of year again...THROWDOWNNNNNN!!! Yep, it's the
Bosstones annual Hometown Throwdown at the House of Blues in Bahston.
I know what you're thinking. "Why the fuck is she complaining about all the shows she doesn't make it to and she still goes to a ridiculous amount of shows and has even more of a shit ton coming up??? She has NO idea how lucky she is." Ok, maybe, but it's hard to be me. No, seriously. It is.
Since Thanksgiving was a couple days ago, I want to leave you with a reflection of my past year.
Things I'm thankful for: My dad for having unprotected sex, my sister for giving me hives, my brother-in-law for letting me poop in his back yard, the "and" in a 4/4 count, oral pills for yeast infections, the JimmyJane Form 2 luxury vibrator, Lyz for letting me molest her back, the Pietasters for helping me to maintain a high level of public inappropriateness all these years, porn stars

that squirt, the 3 state troopers who passed me when I was 12mph over the speed limit, fertile crustaceans and bivalves, my coworker who parks his motorcycle right next to my motorcycle so our girls get lots of lesbian play while we're working, and white wine served in stem glasses.
Ska Fest?!?!? Did someone say Ska Fest??? If you're willing to take a roadtrip to the Midwest, you can go see the
ska fest celebrating the 20th Anniv show of American Skathic!
The show will be taking place at the Metro in Chicago featuring the bands:
HOT STOVE JIMMY, SKAPONE, GREENHOUSE, THE ECLECTICS, HEAVY MANNERS, THE EXCEPTIONS, and DJ CHUCK WREN . It's the return of the THIRD WAVE! Unfortunately, Telegraph and The Parka Kings have not been mentioned to be part of the lineup. That sucks. Congrats to Chuck Wren for many, many years of keeping ska alive.

In other news, I'd like to congratulate Brandon Jenison, the trumpet player/backing vocals from Mustard Plug, for the birth of his daughter Everly recently. I was happy to congratulate him in person back at the Skanksgiving show with the warning that I was going to hear hours of him talking about babies. I think I handled it pretty well.

I hope your Thanksgiving went as well as mine (minus the Tums). I hope the digested turkey dump you took yesterday went well too. Yes, mine went...well, I went. That's all you need to know. See you at the shows.





October 13, 2013 - I'm the reigning queen of ska, definitely in NYC and very likely in the east coast. Sadly, not nationally, but I'm working on it. Please note, this is not self-proclaimed. Four years ago I had a discussion regarding the thought of moving far from NYC, half way across the US. I didn't know what to say. The person I turned to for advice was Buck, singer/guitarist of The Toasters, ex-owner of Moon Records, and current owner of Megalith Records. Buck as known me for over 20 years and felt like he would give an honest answer. He instantly said not to do it. NYC is my home, my scene, my bands, my everything. He said he could see me becoming depressed immediately. This is where I belonged. Unfortunately for you, I'm still here.

Well, the other night the discussion happened again, but this time moving to the west coast. Yet again, I didn't know what to say. So many questions. How am I going to feel being a small fish in a big pond? What is it going to feel like having to wait more than 3 months to see the bands I always go to see? Have I put in my time here and now I should move on? How many other groupies are going to feel threatened by me around "their" musicians? What's it going to be like having to drive to shows? How long is it going to be before I break down crying from being homescenesick? Would I have to abandon this site? What if they don't like me? At least I already know who would replace me on the throne: Skankin' Richard and I'm ok with that. Don't get me wrong; I've been all over the country for ska shows many times so the territory isn't new to me, I just haven't pissed there yet. Let me repeat, it was just a discussion; nothing is happening. I'm sure if it does happen though, I'll be holding onto our dirty sidewalk, kicking and screaming "BUT I DON'T WANNA GOOOOOOOOO!" You know, the kind where you hyperventilate while talking and later give yourself a headache and puffy eyes. Trust me, I still throw a decent temper tantrum.

I'm all flustered now, but need to talk about ska. Ska always makes me feel better.

In ska news, we have some problems again with bands booking shows on the same nights again, but notice it's plural. On Saturday October 19, I'm supposed to decide between The Scofflaw at Characters in midtown or The Attractors at Two Boots in Brooklyn. Then there is also one helluva a doozy on Friday October 25 which has Mephiskapheles/Inspecter 7 at The Knitting Factory in Brooklyn, while Spring Heeled Jack is in Hamden CT, while The Slackers are at Revolution in Amityville out on Long Island. I'm not even remotely close to coming up with a decision on that and there's no way I can pull off hitting more than one of them in a night. Ugh. I know I got to still get around to updating the ska calendar. Bite me.

And in closing I wanted to leave you with a quick poll from my friends asking them "Best ska band ever?" The results:
The Skatalites = 38
The Specials = 13

The Pietasters = 10 (one of them from the band itself, lol)

The Slackers = 2

Reel Big Fish = 2

Skaskank Redemption = 2

The Mighty Mighty Bosstones = 2 (One of those votes was "that band that plays the Knock on Wood song.")

Madness = 1
Hepcat = 1
Toots and the Maytals = 1
The Scofflaws = 1
Tokyo Ska Paradise Orchestra = 1
Cold Spot 8 = 1
No Doubt = 1
Bruno Mars = 1
Deal's Gone Bad = 1 (yet again from someone in that band)

Rush even got 5 votes with the justification that "According to the Signals tour book from 1982, they were going for a "ska" sound on a couple tracks, such as on "Digital Man." Therefore, they qualify." Seriously, what am I going to do with you people!?!?!?

And the best vote of them all??? I read the reply first which said "Don't ask me....I'm very biased." Then I looked at the name. HORACE PANTER. OMG. I wrote back to him "I don't have many rockstar moments since I know nearly everyone in the ska scene on a personal level, but I got to admit I just squealed seeing you, Horace, reply to this. Thank you." I'm going to be high on this comment for awhile. Breathe. And another. I gotta remember to breathe. Whew. See you at the show!





October 3, 2013 - Sonofabitch. Not you, the damn computer....or maybe me (though I'm always in denial). I typed updates in September, swore to god I published them, but never ended up being posted.
Anywho, there hasn't been that much news lately except for upcoming tours. Since August 17th, I've only been to 2 ska shows and this time it's definitely not my fucking fault. What have I done when there wasn't shows??? I'm a vegetarian who went with someone to an all-you-can-eat meat festival with unlimited beer too...which I also don't like. I actually did do something there though: I ordered a cocktail at the bar that was located in the event, was told it was $16 AFTER it was made when i thought it was free, and it was so shitty I only too a few sips. I didn't buy the $8 cookie either. Yes, singular. At least I wasn't the one who had to take Alka Seltzer, but I was the one who had to deal with their accompanied evening full of farts. Let's see...I also got strep throat from one of my little germ factories (AKA students). I still went into work anyway so my co-teacher wasn't left hanging. I also took the time before leaving to cough heavily in my hands then hearty shake hands with 6 certain students. This is one of the few times I'm nice to people. What? I wasn't being nice? Hey, it's not my fault kids don't wash their hands. And a couple other things I did: Shared (read that as tied up) bondage tape with one of my Muslim friends whom squirmed her way out of it, took it off, folded it up nicely and put it in her purse when she learned that it was reusable; and I made $115 in Atlantic City and no, not by stripping. See, I keep pretty busy.

So what do I have for ska news? Starland Ballroom in NJ is having its SKANKSGIVING ska fest again this year! Night #1 biggies are Less Than Jake, Big D and the Kids Table, and Mustard Plug. Night #2 will be Reel Big Fish, Goldfinger, and Five Iron Frenzy.

For those of you who want to take a real road trip, there is The Fest down in Gainesville FL. It's 6 days of mostly punk bands with a few scattered ska bands thrown in. The only big ska bands that are in the line up are: Mustard Plug and Big D and the Kids Table. Thanks, but no thanks. I'll save my few hundred dollars and patiently wait for them to come to Starland a couple days after Fest. Ha.

Seriously, that's it. I'll update the ska calendar soon, but the only bands that announced new dates since my last update was Reel Big Fish, Less Than Jake, The English Beat, and Big D. I think you can wait just a little bit while I do some low-altitude bombing in the bathroom.

Finally, I want to share some emails I've received from you guys. Amazingly, none of them are hate email. How that happened, or didn't happen as it may be, I dunno. Thank you to these folks:
-----------------------------------------------------------------------------------


(emailed to me the night after the Specials played in Philly) "enjoy your Ska ranting......went down from nyc last nite for the show.....great venue. lousy crowd. little skanking. terry more annoyed then normal (if possible) harassed by idiots next to me in the front.they clearly miss Neville...they could not wait to get off the stage.....& I couldn't blame them.

just some field reporting for a fellow skaster.

thanks for the great calendar work...it's been a help.

Rich"
---------------------------------------------------------------------------------------------------------

"Your website == super great. T
hank you for the show calendar; it is damn excellent. Just got to the city a couple days ago, excited to be somewhere that has a music scene to begin with, and a ska scene at that.
I'm sure i'll see you around
-Jonathan"
------------------------------------------------------------
"

We've never met, but I thought I should give you a little recognition and just say thanks! I use your website 

nycska.com 

all the time to find local ska shows. I really appreciate the time and effort you spend on making this info so easily accessible, and kudos for updating it so often! It's gotten me to a lot of shows, especially this past summer. 

Thanks again!

 

Sincerely, 
Nikki"
---------------------------------------------------------------------------------------------------------

And the super cool email I received the other day...


"Hello, My name is Sean and I am currently attending Columbia University. I am emailing you because I am writing my dissertation on Ska and would like to see if you would be willing to do an interview. Let me know ASAP! Thanks


-Sean


---------------------------------------------------

I agreed to do it, but I'm sure he's going to have to edit a shit ton of swear words.  I'm pretty stoked that I'm getting a copy of the final paper too. I could learn a thing or ten about ska.  God, people act like I know everything about ska.  Wait.  I act like I know everything about ska. I know, you know....you're just a little BITCH. Goddammit, smoking pot is making me ADD.  See you at the shows!

 


August 28, 2013 - You know when you start seeing back-to-school commercials you become elated and squeal because A) you have kids and won't have to see dem young whippersnappers all day, or B) You don't have kids and dem young whippersnappers aren't going to be running amuck around town all day. I'm not either of those. I'm a damn teacher. I need not say more.
I don't have much news to report this time. Can you imagine if the evening news said that? Well, they don't...but they do do a good job filibustering (if this is only a noun, I just made it a verb) their time slot. Seriously, do you ever notice how many times they use the word ALLEGEDLY??? The dictionary's definition says
adjective:
(of an incident or a person) said, without proof, to

have

taken place or to have a specified

illegal

or

undesirable

quality. So it's news that's not news. Sneaky bastards. Uhh, this is supposed to be me telling ska news, right? This evening it has been reported that Ms. Ska had allegedly already done the ska news, but there hasn't been any witnesses. Rudies have contacted family and friends but no calls were returned. I can do another 29 minutes of this if you'd like.

Now that I just wasted two paragraphs of space, the only real crappola I have is for you tonight is for you to look at the updated ska show calendar I finally got around to doing. You can get pissy with me all you want because I wasted your time on something that you were going to do already. Ha.
I forget shit constantly and was told that I should start smoking pot to justify the level of my stupidity. Well, one of the things I forgot was a substantial anniversary for me: On August 11, 2013 I celebrated exactly 20 years of going to ska shows!!! Yep, proof that I'm fucking old. That very first show was The Mighty Mighty Bosstones at Graffiti in Pittsburgh PA on August 11, 1993. The girl who introduced me to ska, Kelly Ryan, took me for my birthday. I lost touch with her for 18 years, but when we reunited s
he told me she actually gave up on listening to ska a couple years after high school. S
he also said how impressed she was that I stuck with the music and had such an amazing passion for it now. I'm forever grateful. Thank you from the bottom of my checkered heart, Kelly. See you at the shows!
August 22, 2013 - Hello my pretties! Hmm, I've been gone quite awhile, eh? Let's see what the possible reasons I might not have been around: I could have finally served time for being convicted of public drunkness. I could have been hospitalized for nearly bleeding out from a papercut. Maybe had my electricity go out after putting up enough Christmas lights on the walls of my apartment so it would look like wall paper. Possibly I did the "I've fallen and can't get up" after falling on Astroglide lube that dripped onto the floor out after I was using too much. Who knows. All that matters is that I'm back and you say "Oh snap, dat cracka ho be buggin, man!"
I'm so fucking far behind on nurturing my site here, like I finally withheld the ska teat. I know you just got a picture in your head of a topless lactating MILF rudegirl....sorry bout that. Anyway, I'll catch you up on a couple things.
No real shows coming up for the rest of August. Yeah, who's fault is that??? Don't be putting your finger in my face. I'll fucking bite it off. After that looks good though:
The Slackers
have already announced the date of their NYC Annual Holiday show!!! It'll be on December 20 at the Bell House in Brooklyn. Yay!!!
The Selecter
will be comin around these parts soon with shows in Philly, NYC, and Boston to name a few. Check out their
tour dates on their site
.
The Pietasters and Big D
doing shows together in NH, CT, and Long Island at the end of September.
Spring Heeled Jack
(though I'm not sure if it's the full band or the hornless version) will be in CT, NJ and Boston at the end of October, even
Thumper
will be playing with them at one of those gigs! And
Jimmy Cliff will be touring
at the end of September, playing in CT, Boston, NYC, DC and PA. It fucking sucks that
Mephiskapheles with Inspecter7
will be playing at the Knitting Factory in Brooklyn on the same night (Oct 25th) as The Slackers whom are playing in Amityville Long Island. I hate when that shit happens, two good shows on the same date.
The Skatalites
will be back around for two shows at Brooklyn Bowl in mid-November. Skanksgiving at Starland Ballroom in Joisey will be on Nov 9th with
Less Than Jake, Big D and Mustard Plug
...and then LTJ playing the next day at the Highline Ballroom in NYC. And there are a bunch others but haven't gotten to that yet. Bite me. I'll get to the calendar with these dates soon too. Bite me again...just not in the same spot please. Thanks.
Didn't get to see the
Brooklyn Rocksteady documentary
? No worries, because you can still get it. Yay! Sam Gursky now has his movie available for download if you need it RIGHT NOW or order the DVD then wait so your panties don't get in a bunch (as much as I'd like to see that). The CD is for sale on the site, but is also for sale at some NYC shows. I picked up the CD at the Crazy Baldhead show last Saturday at Don Pedro's in Brooklyn. I still need to give it a run through, but I'll let you kids know what I think...not like you weren't already expecting me to tell you what I think already, but you know... I really got to work on my lack of verbal filters. I'm thinking I have Turret's except without the ticks. Oh well, I don't give a fuck. Moving on...
Random thought here: I really want to know if the new Simon Pegg movie The World's End going to have a ska song in it. I'm not kidding. A bunch of his movies do! Shaun of the Dead's opening scene has the intro to The Specials' Ghost Town. In Hot Fuzz you can hear Tommy McCook and the Super Sonics' song Down On Bond Street. Toots and the Maytals' song 54-46 is in Simon's movie Run, Fatboy, Run. Lee Scratch Perry and Max Romero play the song Chase The Devil in the movie Paul. If I ever meet Simon Pegg, the first thing I'm going to ask him is if he's a ska fan. If he says he is, I don't think I'd make it to ask a second question since I'll be squealing with joy. I'd give him marriage proposal immediately or an accidental slip and fall of his wife if she's married and THEN the marriage proposal. If he says "What's ska" I'm going to pout and hate him for the rest of his life. Hmm. Sometimes it's better NOT to know.
Horace Panter is the bassist of The Specials. He's also an artist! Like a decent artist. Betcha didn't know that, did ya smarty pants? Yup. He's been working on a painting of one of The Specials' favorite musician, Amy Winehouse. He's painting it to be auctioned off in England and damn, the painting is pretty. He was almost done when I last saw it; he said he only had her skirt to finish. Go see what I'm talking about on my other page on here SKA FLYERS AND PHOTOGRAPHY to see the pic of it. I whined about wanting it, but Horace did tell me where I could get it...I mean I'd have to pay for it, but I wouldn't mind getting a print. Go to
Horace's website to see where all of his art is sold
(there's a lot of it!) and I hope you don't outbid me at that auction. I fucking want it. Love you! Kiss kiss.
I have SUPER DUPER good news...well, for me, not just for you, but I swear this is pretty fuckin' cool. Just shut up and read the email I received a couple weeks ago:
Hi Michelle,




We're writing because we have this awesome project called Blogologues, in which we perform the internet with a new theme every time. You can view a short promo video here.




Our next run will take place Thursdays through Saturdays, August 15-24, at 8 PM in the east village, NYC. The upcoming show is Blogologues: New York F#cking City (If I can tweet it there, I'll tweet it anywhere) and we would love to perform the following excerpt from your blog to literally kick-off the show (i.e., as part of the opening number):

"It's 90+ degrees outside with daily threats of thunderstorms. The heat sucks, but it's the humidity I fucking hate. I hope everyone powdered under their boobs or their balls, especially those who are going to bake in the sun all day. If you don't have powder, I'm sure rubbing deodorant there will work equally as well. Well, I'm way more content sitting here in a tank top and panties in my 60 degree air conditioning. When it's summer, it's too fucking hot. When it's winter, it's too fucking cold. Welcome to New York Fuckin' City."




With your permission, we'll keep you posted on the show and its development, comp you if you're able to attend, and credit you and nycska.com in the program, on our website, and through a slide that would appear before your post. If you are interested, please send over a 1-2 sentence bio by August 1st. We're also aiming to have a blogger talk back after one of the performances, so if you can make it to one of the shows, let us know and we'll coordinate with the other bloggers.

Lastly, if you choose to participate, we encourage you to promote the show to your readers/followers. We're happy to provide links, photos and more information about the project. And we hope you'll follow us @Blog_ologues for updates. Thanks, and we hope to see you at the show!

Best,

Alli Goldberg & Jen Jamula, Blogologues co-creators
See! I told you that would be pretty fucking cool!!! That quote was what I wrote on July 7th. Scroll down; it's there. I'll be in attendance at the Saturday show. Who knew me and my big mouth would get me somewhere...well, other than a ska show? I'm going to be famous now! If you want my autograph, I only sign on upper chests.
I know I'm making you read too much, but just suffer with me for a bit more. Here is a heartfelt facebook post that fellow NYC ska musician Rich Graiko (has played trumpet for Westbound Train, The Skatalites, The Attractors, and many more awesome bands) posted this evening that I feel all of you need to see:
"Dear husbands, wives, siblings and supporters of musicians, Thank you. For some crazy reason you decided to willing share in our life long sacrifice for what we (and at times seemingly few others) believe to be a legitimately worthy cause. Though I've had a few people who supported me unconditionally in my career, I had several teachers, relatives and people who played very positive and supportive roles in my life suggest that I shouldn't try to be a professional musician, over the years. I always listened but never stopped. I've lived the majority of my adult life at the triple poverty line but always found enough money to persist. Contrary to the common perception, it's not all fun and games, and in a country that is headed more and more into the depths of a capitalist hell spiral, a lot of musicians see it as the best way to combat the residual evil. I believe with all my being that art, culture and music are what bring civilizations to great heights, not greed and the stock market, military power or material possessions. Perhaps I'm completely off of my nut, and definitely swimming against the current, but hey, ..all the more reason to thank you, supporters of musicians. We know saying that dealing with us can be a bit tricky at times is an understatement, but without you there to love and understand, and take mercy on us, the spark just might wither and weaken. Bukouski said; "find what you love and let it kill you." well I can't think of a better fight to dedicate my life to. ..And I am thankful for the people in my life who continue to stand beside me and share in the sacrifice for something better than the status quo."

You're welcome Rich and thank YOU for making the music we all love.
Finally, I'm going to leave you today with a message I received yesterday from my fellow 737 friend Grat from overseas:
"
Dear Michelle, I know that you had your Birthday some days ago, at fortunally I wasn't online that day because I went on vacation. I got inspired by you when I checked your website. So I went on a little tour to see some ska shows, In total 6 showdays in 18 days. Like you I did it on a bike, not a motorbike but a bikecycle or a pushbike like they called in the UK.

I did in total 1012 k's and that is in 630 miles. I visit 2 festivals in Belgium and 1 in the UK and I saw for example Skalites and the Selecter, the Toasters, The Beat, Bad Manners, Neville Staple Band, The Dualers, Toots'N'Skamen & Roddy Radiation, Urang Matang. Snoop Dog AKA Snoop Lion, Dreadzone and many more. Even had the change to meet and drink beers with the Skatalites. Thanks for the inspiration.
Please take care and hope to see you in December [at The Bosstones Hometown Throwdown]!!
Cheers Grat."

Aww shucks. Thanks Grat! See you at the shows.




July 28, 2013 - So those 4 New England Slackers shows? Yeah, I made ZERO of them. Partially because Mother Nature is still fucking with me and partially because I said "Hi. My name is Michelle and I have a ska show addiction." Seriously, there needs to be an SA, Skankers Anonymous. Wait, wait...what would be even better is SKA, Ska Kids Anonymous! Ha! Ok, that was lame; I know, I know. See, I have problems (notice I made that word plural). I've spent a lifetime picking ska over people. It's made friends disappointed in me, it's made my students find a uber-easy way to kiss the teacher's ass, it's made my family confused because they still don't know what "skay" is, and it's poorly affected many, if not most, relationships I've been in. "I don't get why you can't just go to one show. Going to 5 shows on the same tour is excessive" ...and I'm sure the rest of the sentence is "and pathetic." They just they don't say it. What's always my reaction? A smirk, some guilt, and an oh well attitude. My stubborn ass does what it wants.

On Wednesday night that changed. I told someone I really cared about that I finally admitted that the amount of shows I go to was a bit excessive and that I have always put music before people. But what's the point of having a problem if nothing is done about it? So yeah, I slapped myself in the face, I put on my big girl panties (a cute one too this time: the cheeky cut sheer kind with frilly lace and a little pink bow in the front), and IIIIIII will become a part of others' lives, not THEM becoming a part of mine. Of course in my heart it saddens me, but I'm done losing people who mean so much to me. I said that I will still (need to) go to shows though. I was actually encouraged to still go to shows so people get a fucking break from being around me (I know you just nodded your head quickly), but to start being considerate of others' needs. You can't believe I just said that, didja? Neither can I..., but I did. I know saying it sounds good, but I actually have to do it. I sense everyone turning and going "Dude! I bet you 20 bucks she fucks in less than a month!" I also sense the other person saying in disappointment "Fuck no. I'm not taking that bet since I know you'll win it." Honestly, I want to win that bet. No, I will win that bet.

Elliot, you really do mean this much to me.




July 23, 2013 - Without shows, I'm fucking bored as hell. So what have I been doing to keep busy? Selling some ska stuff on eBay that I just don't want anymore. Why on earth would I give up ska stuff? Because my boobs are too big to fit into the girlie tees and I'd probably get pit stains on the light colored ones. Totally legit reasons.

Let's see...what else...oh, I've been mapping out how to make more shows a bit further away. Starting tonight, The Slackers are going to have 2 shows in Rhode Island and then 2 shows in Mass the following days. The forecast was all fine and dandy last night and I was all ready to go. This morning I check the weather and there are storms everywhere!!! They're developing and conveniently going in the direction of the east coast shore. I know you can't see it, but I'm giving Mother Nature the middle finger with a pissy look. Bitch. Well, hopefully it all clears up tomorrow and I can make the run to catch the next 3 shows. I'm also hoping to hit 100 Slackers shows by the end of the year. At this rate, I might not. Fucker.

Oh, and best of all!!! ....I've figured out how to post My Ska Show History excel spreadsheet online!!! Be ready to be in awe. Just don't drool....unless you have a dog, then it's ok since he/she can lick it up. Having OCD has been good to me.

I also posted a bunch of videos I took at the recent Warped Tour and Specials shows, including a bunch from the performance Roddy and Lynval did together at their own gig. You can find them on My YouTube Channel.

Streetlight Manifesto has posted the dates of their last tour EVER (meh, I give it another 10 yrs and watch, they'll have a reunion like all the other ska bands). Go look at my Ska Flyers and Photography page here and you can see the poster for it....or you can just look here too.

Nice. As I'm sitting here typing, Mother Nature just took a clear liquid dump on Manhattan. Real classy, lady. Moving on....

One of our favorites, The Mighty Mighty Bosstones, are scheduled to participate in another festival this summer. It's called The Shindig 2013 and will be happening in Carroll Park in Baltimore MD on Saturday September 14th. Other bands include The Dropkick Murphys, Gaslight Anthem, Joan Jett, Reverend Horton Heat and a couple others. For tickets and more info click the link above...I'm just too lazy to type anymore of it.

NYC's own, The Frightnrs, have announce a bunch of upcoming local gigs. Go check them out. You can test drive them online before going to the show if you're not sure.

Aug 1st - Otto's Move Your Mule w/ Far East

Aug 10th - Hanks Saloon w/ Reggae Lords & Consumata

Aug 18th - Caracas Bar w/ Selector Rata Rockaway Beach

Aug 23rd - Gowanus NITE Market


I recently read an article called "Iconic NYC Music Venues: Now and Then." Seriously, this made me want to cry. I fucking miss these places. Nearly all of them had ska shows and good ones at that. Here's one that isn't in the article, but it's close enough. It's about Maxwell's in Hoboken, NJ. It's an in-depth interview with those who were involved in the business. I'll fucking miss that one too.

An update for ya: That 2nd degree burn I got on Saturday night at the last Specials show has turned into one BIG blister, about 3 inches long by one inch wide. I know you guys are rooting for me to pop it. I think I just lost half my audience with this paragraph. Survival of the fittest, eh?

Finally, in light of my ska show history listing I wanted to give you a run down of a couple numbers:



- I've been to 721 ska shows.

- 412 of those shows have been in NYC

- The top 10 ska bands I've seen the most:

Pietasters (113 times)

Slackers (89 times)

Reel Big Fish (78 times)

Bosstones (59 times)

Spring Heeled Jack (56 times)

Less Than Jake (50 times)

Pilfers (50 times)

Mephiskapheles (49 times)

Toasters (42 times)

English Beat (42 times)

and Big D (34 times)

Ok, so that was 11. I'm a teacher and I can't count. Blow me. Wait...I don't have a dick either. Go fuck yourself. I know you have a hand. See you at the shows!





July 21, 2013 -
Mission accomplished: 11 shows in 10 days!!
Facts that happened during this time:
- I got to meet 5 of The Specials: Roddy = guitar, Lynval = guitar, Horace = bass, Nik = keys, and Jon = trumpet. I asked Horace if I could meet Terry and I got the look of "Dear god woman. What are you thinking!?!?!" with the response of "No. That's a bad idea."

- What Jon from the Specials said to me after the very last show: "Oh! You're Michelle! I heard about you going to 5 of our shows this week. You're very dedicated and I need to give you this. You deserve it. It's one of the sticks I used during the show tonight and it's signed by everyone in the band (even Terry!!!)." HOLY SHIT. I'll take pics of it and post it soon.
- Horace said "I'm turning 60 at the end of next month, but when I'm on stage I'm 25." He also asked me which Specials show I thought was their best performance. I said it was Boston. Horace said it was Silver Springs MD.
- The Specials stayed in Manhattan for the entire last week of the tour. They spent most of their time visiting our museums: The Museum of Modern Art, The Whitney Museum of American Art, The Metropolitan Museum of Art, and The Guggenheim. I knew they were staying in the city and asked Roddy out for a drink, but he said he needed to go to bed because he's too old.
- I got to hear Lynval tell me the story of him hanging out at Amy Winehouse's house, the things they talked about and that she happened to die on the same day as his birthday. He considered Amy the best female singer in British history, second only to Dusty Springfield. I had Roddy tell me about the 18 stitches on the crown of his head that he got on tour in the 90s. If you see pics of him wearing a hat, it was to cover up it up. About a year later he got into a bar fight and had to get a couple more stitches in the same place.
- I covered 1,226 miles with at least 22 hours of driving (plus a shit ton of traffic). 550 miles of those were from riding my motorcycle. I got caught in the rain on my motorcycle driving to 3 of the shows. I only got lost 2 times.

- I've now seen
The Specials 9 times, The Scofflaws 29 times,
Big D 34 times and
Reel Big Fish 77 times.

- Big D ROYALLYYYYYYY screwed up their song "L.A.X." at the Boston Warped Tour. Dave was distracted at the first break in the song and picked back up after the last break in the song, missing the entire middle of the song. At that same show their drummer Derek got so pissed he kicked his fan (while still playing!!) so hard that it broke and the band was worried they were going to be kicked off the rest of Warped Tour. Luckily, they didn't.

- At the Version CIty afterparty at the Boston Specials show, singer Jeff Baker as for requests, I yelled Rise To Find You (an old Stubborn All-Stars tune), he said it was the very first sing they played, but I missed it because I came late. They still played it again.

- I saw only Skankin' Richard at 5 out of the 11 shows.

- I took 891 photos with my fancy schmancy camera.


- I had a shitty ass attitude at 4 of the shows.


- I used about a roll of papertowels as sweat rags.

- I spent $300 on Specials merch that I'll probably never use because, well, it's too special to me.

- I didn't have any alcohol at any of the shows. That's a rarity for me at the NYC shows. Damn puke fest I had after The NYC Pietasters show from July 2nd has given me no desire to drink. Not sure if I'm happy about that.

- I got a second degree burn on my left leg just from touching the pipes of motorcycle for a split second. It because I was looking in the mirror awhile putting on makeup before the Specials/Inspecter 7 Asbury Park show. It looks like the shape of a penis. Not sure if I'm happy about that too.


- Terry Hall only got pissed off at one of the shows (Danbury) because he pissed at the way the sound was. He still made it half way through the last song, Enjoy Yourself, of the regular set, didn't come out for the last 3 encore songs that were on the set list, but the boys winged it and played Guns of Navarone with out him as the encore.


- I lost count of how many friends I hugged.


- At one of the shows I gave goodbye hugs to all the folks in Big D before they even started their set.


- I got hugs from 15 ska musicians that were there just to enjoy watching the other bands play:
Dave I., Sean R., Pete W., Vic R., Jay N., Sammy K., Tim B., Steph L., Roger A., Marc W., Megg. H., Jackie C., Jay R., Jesse G., and Matt F.
- I got hugs from 31 ska musicians that performed: Aaron B., John C., Ryland S., Matt A., Derek G., Dan R., Dave McW., Alex S., Derek D., Ben B., Billy K,, Ryan O'C., Brie F., Sirae R., Jeff B., Brian H., Ben L., John D., Anthony V., Matt P., Jon C., Travis N., Bob V., Giuseppe M., Scootch, Roddy R., Lynval G., Chris M., Nik T., John R., and Horace P.


Whew. It's not easy being me. I can admit I'm fucking tired.

Now there is a hugeeeeeee time gap in upcoming ska shows in the area. You're wondering now what to do now you know this is the end. :( See you at the shows.

UPDATE: One day of no shows and I'm already bored. I think I might go follow the Slackers up north:
July 23 at The Pelham in Newport RI
July 24 at Manchester 65 in West Warwick RI
July 25 at Shipwrecked Music Hall in Dennis Port MA
July 26 at the Boston booze cruise
I've seen The Slackers 89 times so far. I'm hoping to hit 100 by the end of the year. Shuddup. You're just jealous.





July 18, 2013 - Breathe, breathe, keep breathing, NOW PUSHHHHHHH!!! I feel like I'm about to squeeze a ska kid out of my girlie parts. This is the way I feel about being in the midst of a ska show streak. The goal, 11 shows in 10 days....making this my Rudegirl Tour #7 (see the About Michelle Ska page if you need to see what I'm talking about). Here's this tour's breakdown:

Thursday - The Big 3: Warped Tour, then The Specials, and then Version City
Friday - The Have Nots
Saturday - Warped Tour
Sunday - Warped Tour
Monday - MY DAY OFF!
Tuesday - The Specials
Wednesday - The Specials
Thursday - The Specials
Friday - Roddy Radiation and Lynval Golding of the Specials
Saturday - The Specials

So many shows, the fucking heat I won't stop yapping about, the fatigue running around all over the east coast on my motorcycle, and the stress of making it on time, yeah, I can admit I'm pooped. I guess I should keep toilet paper handy since this ain't done yet.

I'm pleased to hear that the Huntington's own ska band, The Scofflaws, are going to be opening tonight for The Specials. Also pleased to hear Inspecter 7 will be opening for The Specials too at their Asbury Park show on Saturday. The world is a better place when ska bands open for ska bands.

I don't feel like talking about the Specials tour experiences just yet. I'll get to it later. Just not in the mood right now. Deal with it. Last thing you need is a bitchy rudegirl at every ska show.

Remember Slackers NYC annual booze cruise is Saturday too if you're not busting your ass to see the Specials for the umpteenth time like me. I hope you also got your ticket on a timely manner since they've sold out every year. Don't come bitching to me cause I'll bitch right back. See you at the shows.





July 10, 2013 - This summer sucks. I'm spending nearly all my time sitting around at home because of the threat of thunderstorms...which ends up being blue sunny skies OR sitting in the rain on my motorcycle because there was a 10% chance of rain and I got nailed. I'm missing shows left and right. I missed The English Beat the last 3 times, one of the local Warped Tours, a roadtrip to DC to see the Slackers/Shifters, another 4 Slackers shows, The Toasters/Westbound Train booze cruise, another 2 Toasters shows, and a shitload of Pietasters shows....all because of rain. By looking at radar now, I'm not going to be able to see The Skatalites at Mexicali Live tonight in Teaneck, Joisey because of this bullshit. I've only been to 26 shows since the new year. It should be around 50 if I was able to make all the ones I actually wanted. At this rate I'm lucky if I'm going to make 50 by year's end. Last year I made it to 74 shows. I better get my ass moving or I'm going to feel really shitty that Skankin Richard is going to beat me for once in yearly show attendance. He's lucky he wears my favorite cologne or I'd have to hate him.

For your pleasure, Im going to stimulate your prostate by sticking my finger up your ass and do that "come hither" finger motion....ok, maybe not, but I did post some more photos in the Third Wave page. It's equally stimulating, I promise! I also did some summer cleaning around these parts. I know you're sick of staring at 6 month's text of me and my big mouth, so I cut it down so it's just June and July...you know, current shit that actually matters. If you REALLY need to read my bullshit, it's in the Ska News Archives.

I bought a pair of checkered socks the other day. They make me happy. Time to pick out my outfit for the first of many Specials shows. See you at the shows!





July 8, 2013 - One hour and thirty-five minutes = how long it took me to plan out how to conquer 6 shows in 4 days in 3 states:

Thursday - Bus to Boston for Warped tour during the day, The Specials at the House of Blues at night and Version City after-party in the Foundation Room.
Friday - Stay in Boston for Have Nots at The Middle East (yeah, not REALLY ska, but ska influenced. Close enough.)
Saturday - Haul ass to Long Island for Warped Tour again.
Sunday - Haul ass to another Warped Tour in Hartford.

This whole plan started out as 8 shows in 4 days in 4 states, but I had to cut some of it out. It took awhile to snap into reality that going to 3 shows in Boston Thursday and magically making it to Philly for Warped and The Skatalites later that night by the next afternoon ain't happenin, especially when it's a 6 hours non-stop drive....and we all know it's never just 6 hours. I also had to cut from the daydream the English Beat show I wanted to go to later in the night after the Long Island Warped show. For once I can admit, there are too many shows. When someone heard me say this it was followed by "Can I get that in writing!?!?!" Ha. On the downside, it's going to be a longggggg four days. On the upside, I'm tackling for the second time in my life to attend 3 shows in one day. I did it a couple of summers ago when I was at Warped Tour in Long Island, later drove to Brooklyn to see The Scofflaws at Don Pedro's and then over in another part of Brooklyn to see Dave Hillyard's Rocksteady 7 til the late night hour. Of course, this time around is going to be WAY more awesome having it as Warped, then Specials, then Version City. The fucking Specials!!!!

I wonder if Terry Hall is going to remember I was the one he handed one of his socks to at the NYC Specials show from 3 yrs ago.....yeah, he took off his shoes in the middle of the set, walked over to me and my rudegirl friend Maya who were dead center against the barrier, handed us one sock each, Maya and I looked at each other and we grinned. He later said on stage that he shouldn't have given them to us. I looked at Maya again, "You giving yours back?" "Hell no." "Neither am I." I now own the most unique ska memorabilia than anyone else in the world.

I'm going to send you off with this bit of amusement. John DeCarlo will be playing this after-Specials show party in Boston. He checked in with me tonight asking to make sure I was coming. Our conversation ended like this:

John: We just want it to be a party. Please try not to get in any fights please.
Me: I can't guarantee that.

The story to that = John was having a conversation with me in the Foundation Room after one of the Bosstones Throwdown shows 3 years ago, the one that Less Than Jake had been the opener. That was the night when some slutty bitch punched Chris DeMakes, singer/guitarist of LTJ, in the head and I ABSOULTELY flipped the fuck out punching her. She got kicked out. I didn't. I became LTJ's official bodyguard. No one....and I mean NO ONE touches my ska musicians. NO ONE!!! See you at the show!




July 7, 2013 - It's 90+ degrees outside with daily threats of thunderstorms. The heat sucks, but it's the humidity I fucking hate. I hope everyone powdered under their boobs or their balls, especially those who are going to bake in the sun all day at Warped Tour. If you don't have powder, I'm sure rubbing deodorant there will work equally as well. Well, I'm way more content sitting here in a tank top and panties in my 60 degree air conditioning. When it's summer, it's too fucking hot. When it's winter, it's too fucking cold. Welcome to New York Fuckin' City.

So to keep things here as fresh as your balls, I've added a new page! It's "The Third Wave: The 90's" and it's a photo gallery that features my old show photos, music, merch, flyers, zines, magazines, and posters that I collected back then and kept nicely stored this whole time. I've shared them already with the musicians and my friends, got fantastic feedback, heard some great stories, and now feel like you should see them too. "I was at that show!" "Man, I remember being at Wetlands." "Wow, great old school pic!" "I used to have that." "I slept with him on tour." Stop reading and go look it. Now. I said NOW!!!

Monday the English Beat will be at City Winery in Manhattan, Wednesday the Skatalites will be at Mexicali Live in Teaneck NJ, and then I'll be ODing on four Warped Tours and five Specials show within a week. It's good to be me. See you at the shows!





July 1, 2013 - Jesus Christ, it's July already!?!?!? Damn. I haven't gotten used to writing 2013 yet. I still have been writing 2012 for awhile, though according to my Freudian slips, I apparently think it's still 1997. My special ed kids know there is a reason I'm in special ed too. I won't deny it. I should start smoking pot to at least justify a reason for my stupidity. Oh boy.

So here are some tidbits from news I've gotten in the past 24 hours. The Selecter tickets at Gramercy at $25 each. Buy them online and you'll get fucked another $10 in fees, plus the $3 convenience fee. Bastards. Yeah, this is another one of "Michelle's pissed off rant about ticket prices." If you don't want to fucking hear it, stick your fingers in your ears and say LALALALA cause I'll keep doing. Well, part of me just wants to keep doing it to piss you off. So there. Save yourself a bunch of cash and buy it at the box office WITH ZERO FEES.

I heard Jimmy Cliff is returning to NYC!!! He'll be here at Webster Hall on Saturday Sept 28. I feel like an ass for missing out on the free show he did in Brooklyn the last time he was in town. At least I'll be able to stumble home from the show rather than puke in a taxi. Yes, I did that once after a Slackers show at the old Knitting Factory. Long story, but not now. You're lucky. After seeing Jimmy Cliff, I need to see Prince Buster and The Busters (from Germany) and I can die a happy rudegirl.

I also heard VooDoo Glow Skulls are coming back to the Knitting Factory in Brooklyn...and guess who the opening band is??? THE TOASTERS. Really, that's just wrong. I mean, being realistic, yes, I understand it, but come on. This is going to rub me the wrong way like the way the English Beat opened for Reel Big Fish. ::sulk::

I'm going to leave you with one of my favorite lines: "What's better than roses on your piano are tulips on your organ."

Oh, and don't forget!!! FREE Pietasters show tomorrow at City Winery in Manhattan. It starts at 5:30pm so get your ass there on time! I'm going to wear a dress, drink fine wine and try to act all lady-like and shit. Who's joining me to DRINK DRINK DRINK DRINK!?!?! See you at the show!






June 30, 2013 - Only four days into summer vacation and I'm already getting bitchy. Every fucking day the forecast is severe thunderstorms. Yesterday, I tanned to a crispy light brown since there wasn't a cloud in the sky all afternoon. I then spent most of the evening watching the sunset at one of Candy Apple Red's shows on a rooftop in Greenpoint, Brooklyn that had a ska/punk band called Night Gaunts that came all the way from New Zealand. Seriously, those fucking forecasters need a swift kick in the balls or vajayjay as it may be. I'm missing a shit ton of shows. Looking ahead, I'll missing out on about 3/4 of my shows because of the rain or the paranoia of getting stuck in the rain on my motorcycle. Like I should be right now down in Washington DC seeing The Slackers, The Shifters, and Caz and the Day Laborers, but noooooooooooo. Such a killer lineup and I can't fucking go.

In yet another bitchy paragraph, I got some serious beef with the area promoters. July 20th is going to be the day to go down in history as the most ska day. Here are the shows planned:

1. NYC: The annual Slackers booze cruise
2. BOSTON: The Bosstones playing for free on the Boston Common followed later that even by Bim Skala Bim and Pressure Cooker at the Middle East.
3. ASBURY PARK: The Specials playing at the Stone Pony summer stage outside.
4. LONG ISLAND: The Pandemics at The Hub Billiard Club in Island Park NY.
5. NYC: The Pinstripes at Subculture on Bleeker Street.

This is so not fair. If I honestly had to pick one, it would have to be The Specials. Aside from the fact that I already bought a ticket, it's not often I get to see such a great band. They were my first ska tattoo, they were one of the first ska bands I listened to after discovering ska, and I love every one of their songs. I've only seen them 4 times. The Bosstones I've seen over 60 times and go to every night of every Throwdown, Bim around 15 times. I haven't missed a Slackers cruise yet since they started them 15 years ago, and have seen them 90 times. I've seen the Pandemics a couple times, but The Specials easily trump them. The Pinstripes....well, I'm going to hate not being able to make it since I've never seen them before and was looking forward to it. Watch it fucking rain and all of this get all fucked up.

What's black and white and Pauline all over? THE SELECTER!!! Ok, that was worse than the joke "How many rudeboys does it take to screw in a lightbulb?" Why am I bringing up this band? BECAUSE THEY ARE COMING TO NYC!!! Yup, The Selecter will be touring through here, hitting NYC at Gramercy Theater on September 20th. They'll be in Philly the day before and Boston the day after if you miss the New York show. I said it 15 years ago and I'll saw it again: I hope I'm just as lively as Pauline when I'm her age. I'm definitely looking forward to this show!

For those who need some DJing, Love So Nice is coming up soon! NYC's own Grace of Spades and Jah Point will be spinning some rocksteady and reggae at The Swamp in Bushwick, Brooklyn on Friday, July 19th. I wanna go so I can see Sam Gurskey's Brooklyn Rocksteady documentary screening! Show some love, people.

In closing, I'm going to leave you with the best ska video you'll ever see. I can't stop crackin up over the line "Jesus came and found me and he touched me down inside." No wonder why Jesus is your friend...friends with benefits! Meh, forget that one. This isn't ska, but here's definitely the best video ever.

Free Pietasters show on Tuesday at City Winery in Manhattan!!! See you at the shows!

PS - Sonofabitch!!! The site hit counter reset itself!!! It was over 20,000. Does someone have a wall, preferably free, lightly used is acceptable, and in any color, that is well-constructed for banging a head against? I'd like to use it please.




June 19, 2013 - It's 2am on a school night. Wanna know why I'm up??? Even though you said no, I'm telling you anyway: I was tired and took a "nap" after work that ended up being 7 hours long. I fucking missed the English Beat show that was at City Winery tonight. Now I'm wide awake. Fuckin A, man. I'm missing shows left and right because of rain or being too tired. Skankin' Richard even told me tonight that after Thursday will be his 7th show in 7 days....I'm getting beat by a senior citizen collecting social security...who even takes public transportation to all these shows. Show off. I better make it to the Skatalites/NY Ska Jazz Ensemble show tomorrow at Brooklyn Bowl or I'll be pissed.

After years in the making, Sam Gursky's documentary Brooklyn Rocksteady will be released! It will be shown at IndieScreen in Brooklyn at 7pm and 9pm on Thursday July 18th. I got to see clips of it and I'm very much looking forward to it. Go and you'll love yourself for it....not like in the masturbation kind of way, but as in the give-yourself-a-pat-on-the-back kind of way. The latter is so much more sanitary.

Whether we like it or not, networking is a way of life. Same bullshit goes for ska and I recently thought of the kings and queens of the major ska scenes in the US...not as in who has the biggest ego, but who in their scene knows best what the hell is going on. I've pissed and marked my territory in NYC....err, I mean I'm that person in NYC. My other go-to people in each city is Grant for Boston ska, Randy/Rob/Mandy for Philly ska, Michelle for DC ska, Chris for NJ ska, Krist for FL ska, Darren for Chicago ska, and Tazy for Los Angeles ska. If I need to know anything, I hunt them down and they will always have an answer for me. One of the newcomers to the bunch is my buddy (and fellow 737 family member) Adam who is covering MN ska...yeah, as in Minneapolis MN. Seriously, they have a ska scene that's pretty kickin. Adam is joining my other friend Courtney to build up how great MN ska really is. You can check out Adam's interviews, album reviews, and show reviews on his MN Ska blog. Welcome to the family Adam!

I've truly updated all the ska shows I know about on the calendar. I added a bunch of shows: The English Beat, The Scofflaws, Sublime with Rome, Sammy K and the Fast Four, Skatalites, Inspecter 7, Mephiskapheles, The Shifters, The Snails, Less Than Jake, Cherry Poppin Daddies, and The Slackers....plenty of ska to shut you the fuck up or to make you squeal. I prefer the squeal. Sorry for the short notice, but The Scofflaws are playing out at Revolution (used to be called Ollie's Point) in Amityville LI on Saturday night. I thought about going, not necessarily for just the show, but the most awesome seafood restaurant down the block called B&B Fish and Clam. Hopefully I won't have a baby soft-shelled crab walk out of my oyster again this time.

See you at the shows!

*Footnote: Thank god I caught a typo that I made half asleep by typing WETHER instead of WHETHER. Whether means expressing doubt. Wether is a castrated ram. I promise you I don't castrate rams as a way of life. Carry on.




June 16, 2013 - I've always considered myself a no-bullshit kind of person. I suck at lying (like the big eyes when I have pocket aces) and I'm blunt as they come since I lack verbal filters. I figure why waste time talking and get to the fucking point. So here we go....

Apple Stomp was definitely the show of the fucking year!!! I'd give more of a review if I wasn't so wasted the first night after slamming a whole bottle of wine within the hour before the show. I managed to stay puke free, but on the other hand, many-a-men were groped by yours truly. Night two I like "I'm not going to drink like last night" and went to the venue sober, mainly because I didn't want to puke up the 2-2lb lobsters I ate that my 737 family member Phil actually brought down with him from Maine. About 15 minutes in and I was drinking again. I had such great time. I attempted to take a self-pic with every person I knew in the venue (which I was pretty damn successful!) and asked every guy friend of mine "Did I grope you yesterday?" The most frequent answer was "Yeah, many times." If the answer was no, then I turned it into yes. Hehe. Oh the music....yeah, the music was OUTFREGGINSTANDING!!! Night 2 was the best line up a third wave NYC rudegirl could ask for. Personally, I loved the Pietasters set. Funny enough, I saw Skankin Richard last night whom asked me "What the hell was going on with you during The Pietasters' set!?!?!? I saw you taking photos, then back at the bar, then in the skank pit dancing, then back at the merch table dancing, then against the barrier in the front row, then back in the pit, singing at the top of your lungs the whole time." Sounds about right. Who do I honestly think had the best set overall? I'd say it was a tie between Spring Heeled Jack and MU330. Both awesome energy the whole time and all the songs I've loved. I was actually disappointed in the Slackers set. The songs were too slow for the crowd they were dealing with and even too slow for their usual shows. Meh. The biggest disappoint though was regarding food. Being there from 4pm, no reentry all night, all that dancing and drinking, and leaving the venue at midnight all I wanted to do was inhale food..lots of food. By the time I sat down and ate 2 pieces of pizza it was already 2pm, thus missing most of the after parties. I was looking forward to that, but soooooooo tired. BUT HEY!!! A fucking awesome weekend. Super thanks to Matt Flood and the Asbestos Records group for organizing that!

I was hoping to hit 6 shows in 5 days this week and how many did I actually make??? Two. I made the Less Than Jake booze cruise in NYC on Wednesday on the Hudson River. Best one yet since the band played in perfect weather on the top deck outside. They also sold one of the most awesome posters I've seen that said "You SKANKED my battleship!" Cute, very cute. Couldn't have been more perfect and I hope they do it again. On Thursday I was so tired and took a 6-hour "nap" after work and completely missed The Version City Tour that came through in the Bronx. Friday I was supposed to go to see the Toasters and Void Union at Stanhope House in NJ and I got rained out on that one. Yesterday was The Toasters and Void Union at The Grand Victory in Brooklyn and I gotta say this stereotype, but DAMN those Hispanics know how to dance!!! I kid you not. They've always seem to be the best dancers in the ska scene. It was like that too when I saw Chris Murray in Hollywood before. The venue was small last night, but a perfect crowd and lots of energy. The 5th/6th show was supposed to be the Toasters/Westbound Train booze cruise tonight up in Boston (I picked this one over the Less Than Jake booze cruise that happened to be at the same exact time in the same damn city), but I got rained out again. Stupid rain is ruining all my ska shows.

The annual Slackers booze cruise will be on Saturday July 20th in NYC. Only one this year, not two like we were spoiled with last year. Get tickets from my boys are Rocks Off.

Coming up soon on Tuesday is the English Beat at City Winery, which I've never been to, but already love since you can make your own wine and I'm tempted to blow the 10 grand to make Ska Winery (like Ska Brewing, but wine). And then nothing until The Slackers play at Asbury Lanes on July 28th. In case you're wondering, there are only a couple more shows I've learned about for this summer, but I'll update the ska show calendar during my next post. Bite me.

Finally, I'd like to end with a bit of a great conversation I recently had. While I was on the Less Than Jake booze cruise I texted fellow ska fan Elliot, a transplant to NYC from San Diego, and this is what we said:

ME: Jesus, It's a sold out boat and besides the band, I only know 3 others here. This feels weird. :/
ELLIOT: It's is LTJ so I feel like they draw a broader audience than most ska bands.
ME: True, but all the hardcore LTJ crowd aren't here.
ELLIOT: Boat shows are expensive man. That's why I've never been to one.
ME: This one especially....it's $40 plus fees. That price isn't so punk rock anymore. lol
ELLIOT: I think Johnny Quest called. lol

I cracked up reading that and I know only a handful of you will laugh at it too, but it's always good to hear ska jokes. Later Elliot asked me "So did you get a massive ska nerd boner from that Johnny Quest line?" Why do people ask me such stupid questions!?!?! See you at the shows!